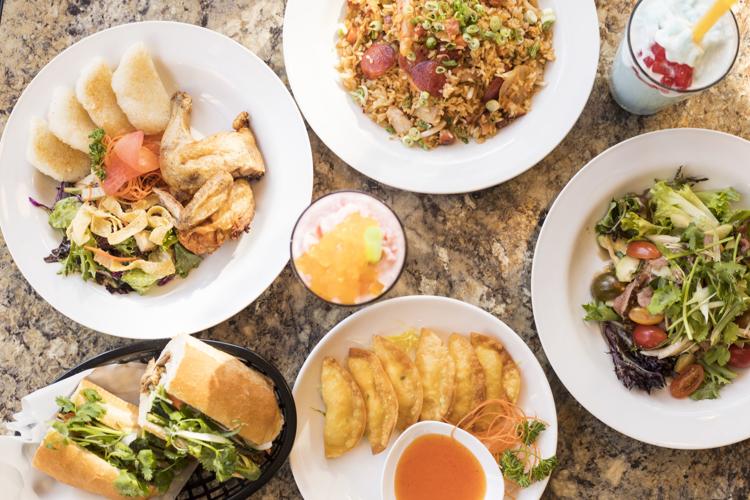 Love Asian-fusion cuisine? If so, the family behind Café Mochi would like to tempt you with bubble tea, bánh mì sandwiches and a variety of Asian-inspired appetizers, entrées and more at VP Square, which opened in St. Louis' Tower Grove South neighborhood last month.
Owner and Saigon native Victor Pham – who named the restaurant after his own initials – stays true to his roots in the neighborhood where he works as a hairdresser and operates Café Mochi, a South Grand sushi mainstay. Pham's brother, Duncan, serves as head chef of both businesses, while their sister, Mina, fulfills front-of-house duties.
VP Square fills a building previously occupied by a hair salon and two offices. Its 3,600 square feet includes a seating area and carryout counter on the lower level, which sports golden paint, custom-made booths and antler-themed lighting. The second level features plenty of additional seating and a full bar with a polished modern feel of its own to complement the refined fare on offer.
"I want the food to be approachable to all types of people," Pham says. "I want everyone to feel comfortable here, and I love seeing people happy when they eat."
The menu begins with such starters as coconut shrimp, flash-fried calamari and house-made crab Rangoon, followed by two salad options: grilled steak and grilled chicken. Ramen, served with house-made noodles, comes in three different varieties: classic tonkotsu; O-Miso with miso pork broth, pork belly, soft-boiled egg, bamboo shoots, green onion, naruto and nori; and Kimchi Ramyun with kimchi jjigae (stew), pork belly, bean sprouts and green onion.
Bánh mì sandwiches come with pork pâté, pickled radish and carrots, jalapeño, cucumber, cilantro and the guest's choice of protein: ham, grilled bulgogi beef, lemongrass chicken, char-grilled pork belly or beef pastrami with a sunny-side-up egg. Hot pot options include a Sichuan spicy hot pot and Thai tom kha hot pot.
House specialty entrées include bibimbap with bulgogi, spicy chicken, spinach, onions, carrots and mushrooms served in a hot clay pot with a fried egg; a Hawaiian poke bowl with ahi tuna, salmon tartare, avocado and seafood tempura on rice; and a crispy Vietnamese crêpe with shrimp, pork and sprouts, served with lettuce, fresh basil and dipping sauce. All of those dishes, frankly, sound like delectable delights before catching one of the many upcoming spring theatrical performances.
A vegetarian menu features such varied options as pan-fried vegetable dumplings, tofu yaki udon, a Vietnamese mushroom crêpe and garlic-basil fried rice with onions, garlic, peas, carrots, napa cabbage, bean sprouts and fresh basil.
"The highlight is quality, quality, quality, and it shows when the food comes out," Pham says.
To drink, guests can choose from a selection of wine, sake, beer, frozen drinks, martinis and signature cocktails such as the VP Sun Splash Punch with orange, strawberry, banana, cranberry and Malibu rum. Bubble tea and smoothie flavor options include matcha, taro and strawberry, served with tapioca pearls, fruity popping boba or jellies. Cold tea and hot tea, as well as Vietnamese coffee, are also available.
VP Square, 3611 Juniata St., St. Louis, 314-833-4838, facebook.com/vpsquarestl