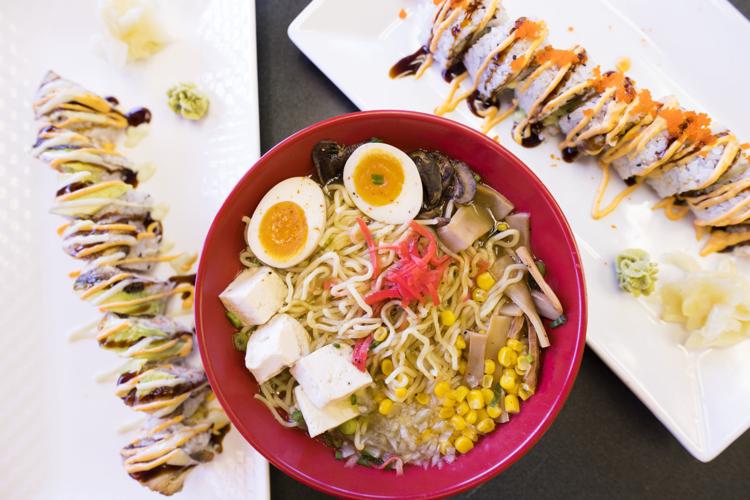 A small Maplewood restaurant already offering manifold dining options recently expanded its menu even further. Toasty Subs and Sushi Kitchen – which debuted last June with sandwiches, sushi and bubble tea and which LN praised in its Sept. 15, 2017, edition – recently added ramen to its repertoire.
"We try to bring quality food to the community," says Alex Liu, who co-owns the establishment with his wife, Lily. "With our subs, we toast them just right on fresh bread. With our sushi, Lily Liu is an expert with almost 12 years of experience. She is also creative and adds new things. She started studying ramen recipes and created her own."
According to Liu, his wife consulted with a ramen chef to establish a basis for their soup, but ultimately created a dish unique to the metro area by cutting nearly two-thirds of the original fat content in the broth for a lighter, healthier product.
"Traditional ramen noodles are very fatty – good tasting but not good for health," Liu says. "We're still trying to keep the original flavors while omitting the extra fat. Ours is very different compared to other similar products in the market. The broth still needs eight to 12 hours to cook to develop a deep flavor."
Toasty Subs and Sushi Kitchen offers four different styles of ramen with fresh noodles: tonkotsu, seafood, miso and veggie. The first two use the same broth base, made with chicken and pork; meanwhile, the third blends four broths, and the fourth uses a vegetable-based stock made with celery, carrots, cabbage, white onions, turnips, corn, ginger and spices.
Topping the tonkotsu ramen are pork belly, diced onions, fresh mushrooms, bamboo shoots, corn and roasted oil; topping the seafood ramen are crunchy shrimp, fish balls, diced onions, fresh mushrooms, bamboo shoots and corn; topping the buttery miso ramen are pork belly, diced onions, fresh mushrooms, corn and bamboo shoots; and topping the veggie ramen are bamboo shoots, corn, tofu, diced onions, fresh mushrooms and roasted oil. Each bowl also comes with a soft-boiled egg, green onions and ginger. However you prefer your ramen, in fact, all sound like great dining options before catching The Humans from The Repertory Theatre of St. Louis.
Guests can pair the noodle bowls with such other popular menu items as a classic Italian sub or such sushi rolls as California rolls and the (Mizzou salute) Tiger roll with crab meat, cucumber, avocado and shrimp.
"A lot of people like to order the noodles and sushi together," Liu says. "We paired the two together to make our concept even better."
Toasty Subs and Sushi Kitchen, 3001 S. Big Bend Blvd., Maplewood, 314-833-5188, toastysubsandsushi.com