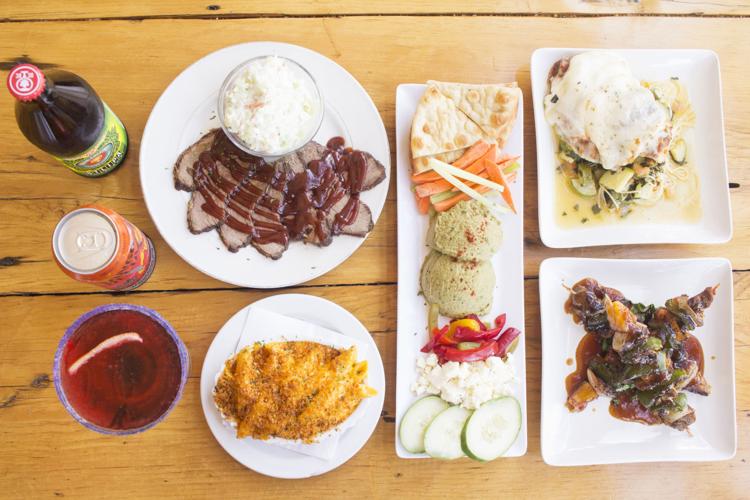 The Purple Martin in St. Louis' Fox Park neighborhood has refeathered its nest.
That restaurant opened in March 2014, closed last December and reopened in January with new owners and a brand-new menu of American comfort food, craft cocktails and more.
The new management includes partners Mark Hinson and George Walker, who previously owned neighborhood watering hole Van Goghz Martini Bar & Bistro (now operating as Crafted., whose name does indeed include that parlous period). Hinson, who has 28 years of experience in the hospitality field, currently serves as a district manager for fast-food chain Wendy's. Together, the couple co-owns The Purple Martin with Walker's colleague from his days as a teacher, Tina Zweifel.
"We're excited to be back in the neighborhood, and the neighborhood is excited for us to be back," Walker says. "We're good friends with the previous owners, Brooke [Roseberry] and Tony [Lagouranis]. They did a great job with the space and décor, and we're happy they trusted us to keep it going."
The approximately 2,500-square-foot space, which seats up to 125 across its dining rooms and patio, largely retains its original identity, complete with colorful cushion-topped bench seats, exposed brick walls and purple accents. New additions include dartboards, a jukebox and weekly karaoke, open mics and bar trivia.
"We decided to keep the name because we really like the purple martin and what it represents," Walker says. "Purple martins are birds that live in communities – thus, our motto: 'Where birds of all feathers flock together.'"
Chef Desmon Hines, whose culinary résumé includes cooking at Peacemaker Lobster & Crab, The Garden on Grand and Van Goghz, helms the kitchen. Its menu marks a departure from The Purple Martin's previous offerings of casual sandwiches and North African fare.
Guests can choose from appetizers, salads, flatbreads, burgers, sandwiches, entrées, sides and more. Bread and pizza dough comes from Vitale's Bakery on The Hill. Highlights include meatloaf topped with beef gravy and served with mashed potatoes and green beans; chicken saltimbocca with prosciutto, brie and garden pasta; and blackened kebabs with hearty cubes of house-seasoned beef tenderloin and vegetables. The variety in options, as a result, makes The Purple Martin a great stop to fuel up before heading to the LaBute New Theater Festival at The Gaslight Theater.
Other popular items include a chipotle black-bean wrap and a smoked brisket platter, which features a 12-hour smoked and sliced brisket with toasted mac 'n' cheese and coleslaw. The kitchen, Walker notes, doesn't have a deep fryer, so bar snacks like chicken wings instead come baked and broiled (as well as tossed in various sauces, among them bourbon, teriyaki and Buffalo).
Behind the bar, Donna Marshaye White oversees the beverage program with a list that features more than 25 bottled beers, 10 wines and 10 craft cocktails. Also, a daunting-sounding liquor flight tasting program features 2-ounce pours.
"We have a stellar staff and amazing cuisine in a great area. It's a tightknit community that's very diverse," Walker says. "We wanted to be a place where people can walk down, enjoy a nice meal, have a drink and enjoy conversation. It's a very inviting, comfortable place."
The Purple Martin, 2800 Shenandoah Ave., St. Louis, 314-396-6511, thepurplemartinstl.com