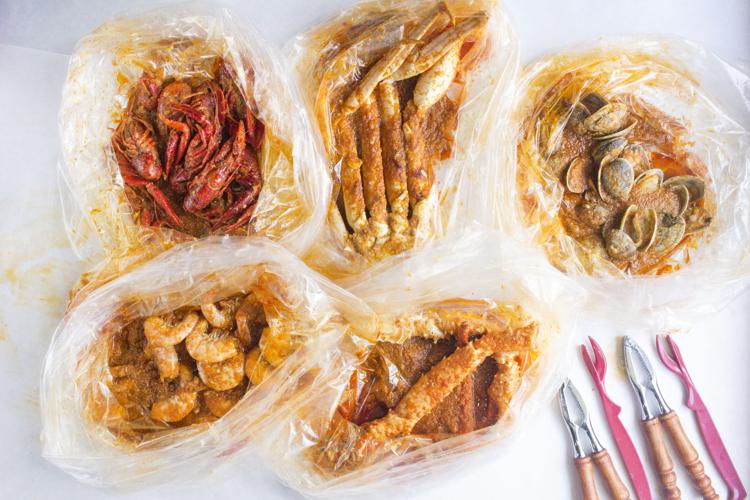 This past summer, University City welcomed a family-owned seafood eatery, The Mad Crab, whose menu spotlights boiled seafood shaken with house-made sauces and served directly from the bag.
"It's like Louisiana-style – with paper on the tables – but with a bit of West Coast flavor," says consultant Chris Valera, who hails from Dallas. "It's not just Cajun spice. There's more garlic, more butter and chef's special sauce. You eat right out of the bag with your hands using bibs and gloves."
The crab-tivating concept comes from brothers and first-time restaurateurs Victor and Nam Ho, who come from a background of running nail salons and beauty-supply stores locally. Valera says The Mad Crab was inspired by similar-style restaurants in Victor Ho's current home in Dallas, including Hot N Juicy Crawfish.
The full-service restaurant fills the approximately 3,000-square-foot space previously occupied by Kim Son Seafood, with a capacity for around 200 guests. Nautical décor adorns the room, from the fishnet-covered entryway to seaside-style posts in the dining area, which guests can embellish with their own signatures.
From the menu, guests can build their own meals by selecting options from three categories: proteins, among them Dungeness crab, lobster, king crab legs, shrimp, crawfish, clams and mussels; sauces, among them Cajun, lemon-pepper, garlic and "the whole shabang" (sic), a combination of all three; and finally, a spice level ranging from nonspicy to extra-hot.
"We're getting seafood from Louisiana, Gulf oysters and New Zealand clams and mussels. There's a fresh shipment every day," Valera says. And who wouldn't enjoy fresh seafood before (please pardon the pun) catching Tuesdays With Morrie from The New Jewish Theatre?
Beyond the preceding dishes, combo deals come with corn, potatoes and sausage. Appetizers and sides include raw oysters, chicken wings or tenders, fried catfish, fried shrimp, gumbo, garlic French bread, steamed rice and more. To drink, The Mad Crab offers soda, tea, lemonade and buckets of domestic and imported beer.
"Honestly, I thought we opened too early and wanted to be better prepared, but hearing people in St. Louis saying that we opened too late has made this so exciting and enjoyable," Valera says. "They were waiting for this, and we brought it to them."
The Mad Crab, 8080 Olive Blvd., University City, 314-801-8698