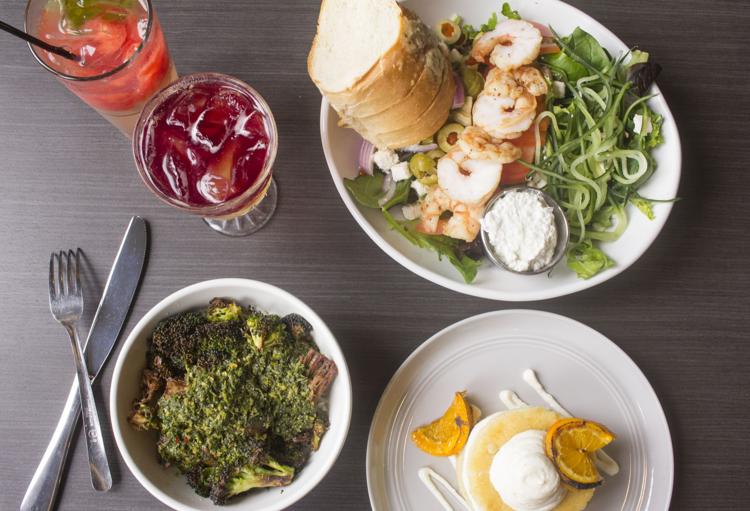 Lovers of the arts can enjoy a glass of wine while appreciating the local creative community in The Dark Room, now operating under the umbrella of the nonprofit Kranzberg Arts Foundation.
In February, the establishment moved from its former digs (basically around the corner) into the renovated, historic Grandel Theatre. In the process, its hours expanded and its menus were revised, with the addition of both lunch and brunch.
While maintaining its identity as a refined experience for vino and photo fans alike, The Dark Room seeks to pique the interest of neighborhood passersby with embellished offerings that accompany in-house programming. Patrons can enjoy exhibits and live entertainment alongside elegantly prepared eats and a large selection of drinks – all in a sleek setting juxtaposing wood and steel textures from the Grove's SPACE Architecture + Design.
(This, incidentally, marks the first phase of the Grandel's renovation, filling its lobby and common areas with The Dark Room concept; the next phase will involve an outdoor patio and the Grandel's central stage.)
According to executive director Chris Hansen, The Dark Room's new space allows 30 percent more seating than its previous location at 615 N. Grand Blvd., where it debuted in 2014. It now serves as the first full-service bar and restaurant inside a Kranzberg Arts Foundation venue.
"Relocating The Dark Room around the corner enables us to provide better patron amenities," says Denise Mueller, who serves as the foundation's director of hospitality. "We worked a lot on the infrastructure to provide an enhanced experience to our patrons. If you come here to have a glass of wine, you're giving money directly back to an arts organization."
In the kitchen, chef Samantha Pretto oversees the revised food menus, embellishing the previously established Mediterranean-inspired, wine-friendly offerings. Prior favorites such as meatballs and a weekly gnocchi program remain, augmented with plenty of additions.
"I really felt the menu needed to fit the space," says Pretto. "It's beautiful in here. Beautiful food, beautiful mood – that's one of the mottos I live by. I also tend to cater more to people with food allergies, so I introduced a few new bowls, including vegan and vegetarian options."
Lunch includes a pick-two option featuring sandwiches (among them Italian beef and artisan grilled cheese), soups (Italian wedding soup, for instance) and salads. Also available separately are flatbreads, such as one topped with spicy braised chicken, hot sauce, garlic, marinated onion, Parmesan, hot sauce and herbed crème fraîche.
Dinner options supplement that list with small plates, shared plates and entrées such as shrimp and "grits" (actually, creamy English white cheddar polenta) and a chimichurri beef bowl with beef confit over basmati rice with herbs, sweet peppers, roasted broccoli and chimichurri.
At the bar, meanwhile, the beer program grew to include international offerings. Overall, the beverage list features more variety, including specialty cocktails and more than 100 wines by the glass and by the bottle – so potential visitors may want to see what (shall we say) develops here before catching Dancing at Lughnasa from Mustard Seed Theatre.
The Dark Room, 3610 Grandel Square, St. Louis, 314-531-3416, thedarkroomstl.com