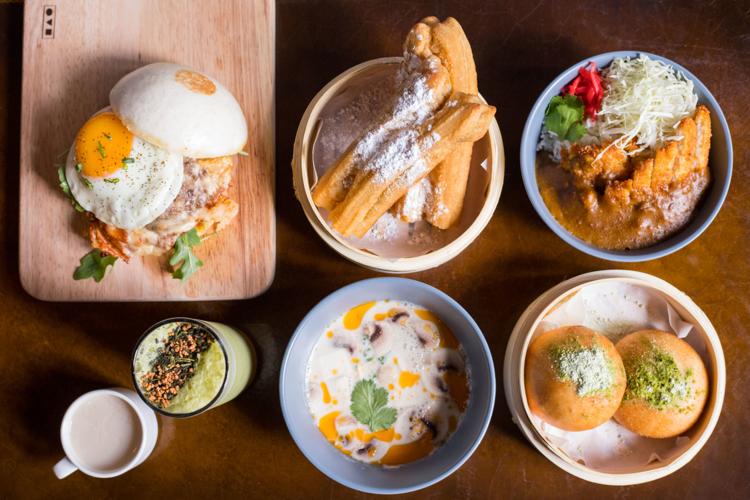 The Bao, which opened in April in Clayton, spotlights the iconic Asian steamed bun, featuring sandwich-style bao, curry bowls, soups, salads, snacks, ice cream bao and more.
The restaurant comes from owner R.J. Xu along with chef Nisa York and general manager Benjamin Bauer. The team brings a wealth of hospitality experience to the table: Xu previously owned Sushi Station in Webster Groves, York's family owns Thai restaurant King Elephant in Clayton, and Bauer served as beverage director of the now-shuttered The Libertine also late of Clayton.
The Bao fills approximately 2,700 square feet previously occupied by Coastal Bistro & Bar, with around 50 seats in the dining area and another 20 on the patio. The interior features a design scheme that echoes its East-meets-West mentality. Xu says the aesthetic blends old-time Shanghai with European-style antiquities and accents.
"I had a concept to mix Asian and American ingredients together in a unique way, with steamed buns as the vessel," Xu says. "Our bao recipe is Thai-style – not Chinese or Vietnamese."
York says her bao gets its characteristic light, fluffy texture from flour imported from Thailand. Guests can have bao filled with a variety of savory ingredients: The lobster roll bao, for instance, comes served Maine-style, with lobster poached in brown butter, topped with mayo. A wagyu bao features havarti, arugula, truffle mayo and a sunny side up egg.
For a quick and casual breakfast, guests can choose from items including Taiwanese crullers, grilled cheese, beignet bao dusted with matcha, or avocado toast with toasted bao, avocado, a quail egg, spring greens, pecans, lemon and olive oil.
Bowls, soups and salads also draw from a variety of Asian influences. Guests can choose from dishes such as York's signature wagyu massaman or chicken katsu with panko chicken, curry, cabbage and pickled ginger. Snacks include bacon-fat-fried Korean street corn with mozzarella, lardon and scallions; "Sesame Mofu" with soft tofu from St. Louis' own MOFU, sesame dressing, scallion and katsuobushi; and laab wings with lemongrass, kafir lime leaves, Thai chili and roasted rice powder.
From the bar, guests can find an equally diverse beverage list. They can choose from coffee, Chicago-based Spirit Tea, soy milk, soft drinks, wine, beer and cocktails like the You Look Like I Need a Drink, which features aloe liqueur, spring citrus, Topo Chico sparkling mineral water and mint. Dessert options include ice cream bao made with fried dough; available flavors include green tea, black sesame and mango sticky rice. Whether you're ready to enjoy dinner or simply a cocktail, make sure to do so before catching Jersey Boys at The Muny.
"Most people have only seen bao in the form of a steamed pork bun," Bauer says. "We're super excited to share how versatile it can be – and not only that, but how simple yet intense the flavors are that Nisa's able to pull off."
The Bao, 14 N. Central, Clayton, 314-899-9089, thebaostl.com