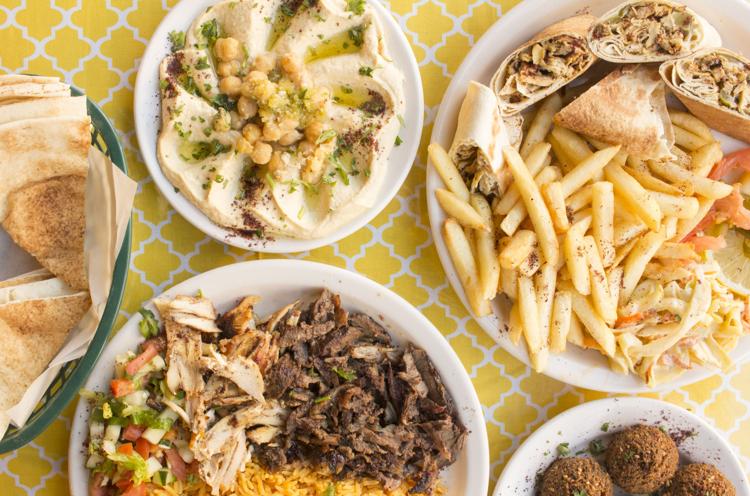 In the Delmar Loop, a new destination for Middle Eastern cuisine fills a familiar side-street storefront. Shawarma King debuted in December, occupying the space that formerly held fast-casual burger joint Zippy Burger.
These days, the dining room takes on a pale-yellow hue with royal-blue accents. Five or so tables are available for patrons to enjoy their meals on the premises, with the majority of walk-in orders so far focusing on carryout.
Owner Mohammed Alsalem, who was born in St. Louis but grew up in Jordan, is the mind behind Shawarma King. The restaurateur has nearly nine years of experience running area businesses.
"I love the Loop and have worked in the area for years and years," Alsalem says. "I had the idea to open this restaurant because it's hard to find food prepared exactly this way in St. Louis."
According to Alsalem, his technique for shawarma (a sandwich of slow-roasted meat topped with hummus and served in flatbread) involves marinating chicken and beef overnight in a mixture of vinegar, spices and olive oil. The tender, seasoned meats then are cooked on a rotisserie and shaved off to order.
"We want people to see how we slice our meat," he says. "We want people to see what they're eating and how it comes together in the kitchen. We're doing it the traditional way."
According to Shawarma King's Facebook page, "shawarma is a lot like a gyro, kind of like a taco, but so different in many ways." Guests can find the key proteins featured in a variety of entrée options, such as Alsalem's personal favorite: beef and chicken shawarma with rice served with tahini, garlic sauce and Arabic salad.
Another entrée option, chicken or beef shawarma Arabi, features the meats served with fries, coleslaw and pickles. A vegetarian platter, featuring a variety of appetizers, also is available.
Cold appetizers include tabbouleh, baba ganouj, labneh and mosabaha – hummus mixed with whole pieces of cooked chickpeas topped with olive oil, a special lemon sauce and spices. Hot appetizers include falafel, kibbe and ful medames – a spiced fava bean dish puréed with lemon, garlic and tahini.
Additional selections include lentil soup and fattoush salad with romaine lettuce, tomato, cucumber and fried pita. Handheld options include chicken shawarma, beef shawarma, mixed shawarma and falafel sandwiches – with fries available for a slight upcharge. All of which sound like great options before catching Lady Day at Emerson's Bar & Grill.
Shawarma King, 571 Melville Ave., St. Louis, 314-261-4833