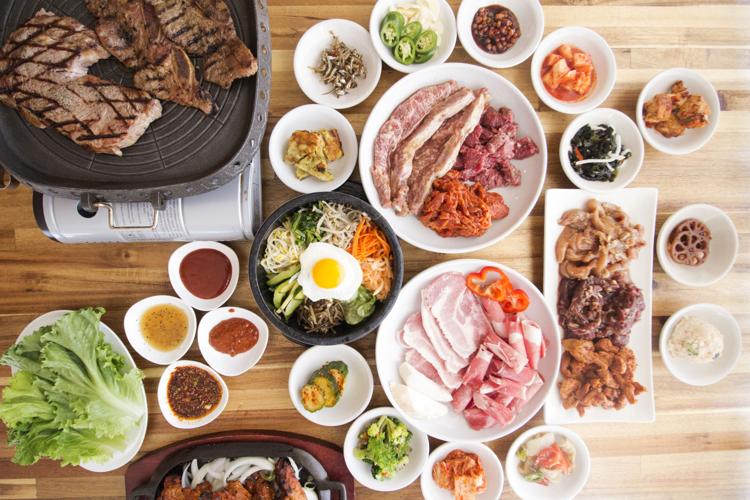 Devotees of Korean cuisine received good news in July when St. Ann's Seoul Garden opened a sister venue in Creve Coeur, featuring all-you-can-eat Korean barbecue and far more.
The family-owned and -operated business comes from Sean Moon with his parents, Kyung and Dong Moon, who collectively have decades of experience in hospitality, with roots in a large-scale restaurant in Seoul, South Korea. The family, which immigrated to the United States in the early '90s, also has run a number of businesses in Los Angeles and elsewhere domestically.
In 2008, the Moons took over the St. Ann Seoul Garden. A year and a half later, in Chesterfield, they opened the fast-casual Kimcheese, with a second location following in 2015. That second location (fans of whose Asian-fusion cuisine can still enjoy it at the flagship restaurant) closed in June to accommodate this new Seoul Garden.
"We're over capacity at the St. Ann Seoul Garden on the weekends, so we wanted to expand," Sean Moon says. "This seemed like a great location for it."
The approximately 3,000-square-foot Creve Coeur space seats around 70 and largely maintains the rustic aesthetic of its former identity, complete with wooden booths and minimal decorative components like a wall of traditional Korean fermentation jars. The addition of larger tables encourages group dining.
"Our food, by nature, is traditionally communal food," Moon continues. "Back at home, we'll have one big pot of soup and little side dishes for everyone to share. It's the same here – we have one stove so everyone can grill and eat meat together. We really wanted to emphasize that side of Korean food."
The Creve Coeur menu generally resembles St. Ann's, albeit with one entrée exclusive to the new location: spicy pork ribs. "That one is phenomenal – I like it a lot," Moon says. "We butcher all our meats here, and many of them are marinated for 24 to 36 hours. They're longtime family recipes."
Moon recommends the all-you-can-eat Korean barbecue option for the best experience. Guests can choose from "original" meats, including beef bulgogi, pork belly, chicken kalbi and rib-eye, or opt for the "premium" category, which features additional cuts such as LA short ribs, whole-cut rib-eye and spicy pork ribs. Soup options include radish, soybean and spicy tofu.
Additional offerings include a variety of bibimbap bowls, dumplings, seafood pancakes, yook gae jang (beef soup), a kimchi pork belly entrée with tofu, and japchae – rice noodles with your choice of chicken, beef or pork.
Any one or more of those dishes should put you in a receptive mood to enjoy a production from The St. Louis Black Repertory – so why not end the summer on a combined culinary/theatrical high note?
Seoul Garden, 10441 Olive Blvd., Creve Coeur, 314-569-4123, koreanbbqstl.com