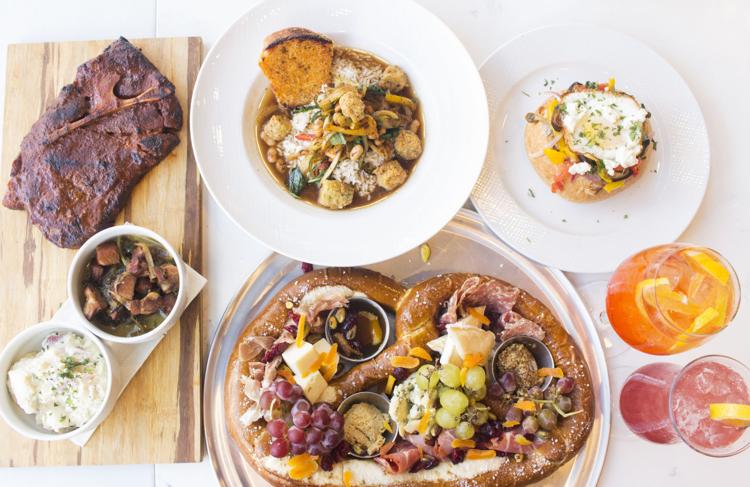 Late October saw the opening of 1764 Public House in St. Louis' Central West End neighborhood, featuring modern spins on St. Louis and New Orleans favorites for breakfast, lunch, dinner and late-night dining.
The opening marks the latest venture from Gamlin Restaurant Group's Derek and Lucas Gamlin, joining their other establishments in the CWE: Sub Zero Vodka Bar and Gamlin Whiskey House.
Derek Gamlin reflects: "1764 is the year St. Louis was founded. We based our entire restaurant on the foundation of St. Louis' relationship with our sister city, New Orleans. We decided to mash their food and drink traditions together. It creates fun menu items like crawfish ravioli and a St. Louis pork steak po'boy. It's very fun and unique."
Filling roughly 5,000 square feet, 1764 Public House seats around 200 inside and 90 outside. The Gamlins worked with SPACE Architecture + Design from St. Louis' Grove business district to realize their vision for the bistro and bar's aesthetic, with homages to the CWE's own classic design history and an indoor balcony that serves as a nod to New Orleans architecture.
The Gamlins collaborated on the creation of the menu with executive chef Ryan Cooper, offering signature items like "breakfast in bread" – bowls created from house-made bread stuffed with a variety of fillings. The 1764 Original "breakfast in bread," for instance, consists of a sourdough round stuffed with bacon lardons, Ozark forest mushrooms, breakfast sausage, roasted tomatoes and leeks topped with a Provel-mozzarella blend and a farm-fresh egg.
Sandwich options include a Volpi muffuletta with Genoa salami, capocolla, mortadella, provolone, olive tapenade and house-made giardiniera; a Gerber sandwich with garlic butter, ham, Provel and paprika; and a beechwood-smoked pork steak po'boy with Budweiser barbecue sauce, creamy slaw and diced red onions.
Additional highlights include jambalaya, rectangular St. Louis-style pizzas, cast-iron blackened redfish, gumbo that's finished tableside and a mega pretzel board featuring a 14-inch soft pretzel served with Volpi charcuterie, artisanal cheeses, dried and fresh fruits, bourbon-vanilla honey and marinated olives. No matter what a guest chooses, all of these offerings sound delectable before catching Hans Brinker from Metro Theater Company.
From the bar, patrons can choose from 16 taps and a long list of beer, wine, spritzes, classic cocktails and mules – including a shareable 168-ounce size. Nitro java from Kaldi's Coffee is also available, along with a selection of single-barrel spirits. In the coming weeks, look for a weekend brunch (starting at the end of this month, according to the venue's website) with live music and items such as a sparkling wine-and-oysters platter.
"I just want this to be a place where everyone feels comfortable," Derek Gamlin says. "We're proud to be St. Louisans and proud to be in the Central West End. This public house in the middle of the neighborhood is the perfect place for people to gather at, relax, have fun and be happy." 
1764 Public House, 39 N. Euclid Ave., St. Louis, 314-405-8221, 1764pub.com