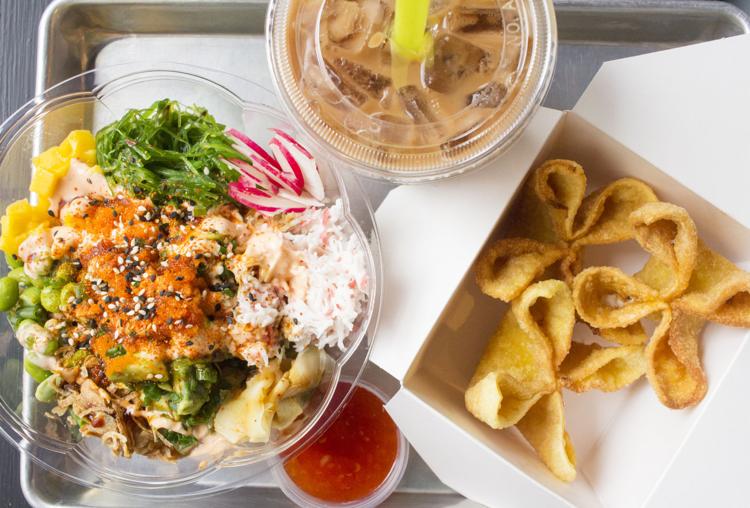 Poke bowls have hit St. Louis' Central West End neighborhood in the form of the puckishly named PokeDoke.
The on-trend cuisine, which originates from a Hawaiian raw fish dish, features seafood tossed with sauce, topped with diverse ingredients and served atop rice or another base. PokeDoke debuted in October, serving a take on the poke bowl and Asian fusion food in a fast-casual setting.
"I always like to say it's the Chipotle of sushi places," co-owner Andrew Shih says. "Basically, you pick your base, pick your protein and pick your toppings. You sauce it however you want. Some people like it plain, and others who like a variety of toppings can mix and match. You could come here every day and make it a different flavor."
PokeDoke comes from Shih and his siblings, Annie, Leon and Steve, who come from a family of restaurateurs. Their parents own Hot Wok Cafe in Chesterfield, while their uncle, Joseph Shih, owns Guo Bin and King Doh Restaurant. After a family trip to Los Angeles, the siblings decided to bring poke to the Midwest.
Andrew Shih, who manages day-to-day operations, conducted research in cities including Chicago, Los Angeles and Huntington Beach, California, where he spent a day "shadowing" at a restaurant called Poke Island. PokeDoke's menu constitutes a collaboration among the Shihs, as does the interior.
The restaurant's 1,200 square feet feature a clean, simple contemporary setting with white subway tile, wood and hand-painted orange stencils of the logo on the walls. The dining area seats approximately 35, with additional outdoor seating to come this spring.
To order, guests approach the open kitchen counter and select from the build-your-bowl menu, complete with vegan and gluten-free options. The restaurant offers small, regular and large sizes, with two, three and four poke scoops, respectively. After that selection, guests choose from a base of white or brown sushi rice, soba, salad and wonton chips; central components including salmon, ahi tuna, spicy tuna, octopus, shrimp and tofu (the latter three cooked); and mild, medium or spicy sauce.
To complete bowls, guests select from a list of toppings and drizzles including crab meat, mango, seaweed salad, masago, fried onion, edamame, spicy mayo, sweet chili sauce and eel sauce. Avocado and kimchi are also available for a small upcharge. À la carte items include crab Rangoon, pot stickers and miso soup. (Chicken wings also will be added to the menu soon.) Whether you go the poke route or not, all of these sound like delectable choices before catching A Behanding in Spokane from St. Louis Actors' Studio.
Available drinks include fountain sodas, canned beverages and bubble tea in black tea, green tea, taro and watermelon. In the future, the Shihs also hope to offer frozen treats including Dole pineapple soft-serve and matcha ice cream.
PokeDoke, 8 S. Euclid, St. Louis, 314-833-5900