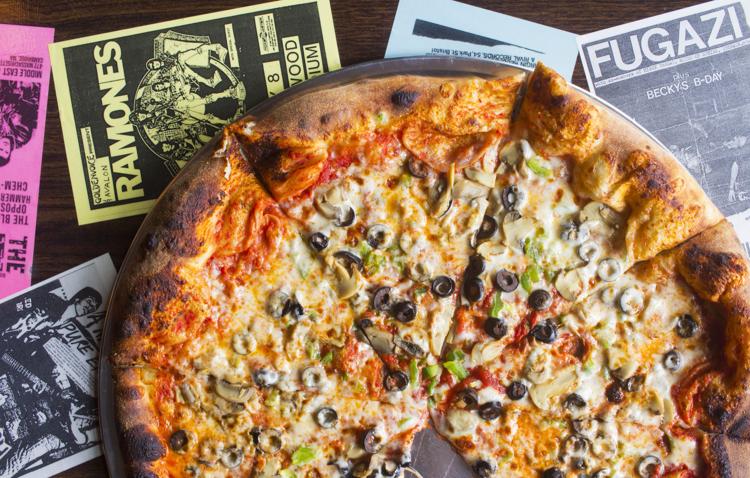 South Grand's Pizza Head, which opened just last month, features vegetarian and vegan New York-style pies and slices paired with canned beer and punk rock.
The pizzeria comes from Scott Sandler of Pizzeoli; Sandler opened that Soulard Neapolitan-style pizza restaurant in October 2014, with a remodel and expansion the following year. Pizza Head serves as a counterpart to Sandler's artisan pies at Pizzeoli and pays homage to his New Jersey roots.
"At my Neapolitan place, my work falls under a tradition that has certain parameters and style," Sandler says. "Pizza Head is a passion project with more room for creativity that will allow me to put out something unique."
The casual eatery features around 30 seats, filling the 1,200-square-foot space previously occupied by Brickyard Tavern and Absolutli Goosed. Design elements include hot-pink paint-splattered walls, neon-colored classic concert flyers atop tables, hanging Edison bulbs, original tin ceilings and a jukebox to tie everything together.
In the kitchen, an Italian electric deck oven set to 575 degrees turns out 20-inch pies in only 4½ minutes. According to Sandler, the in-house dough incorporates high-gluten flour and cooks into a foldable crust that has some bite and leans to crispiness.
The majority of pizzas come with tomato sauce topped with shredded mozzarella, though a white sauce with an olive oil, garlic and ricotta base is also available. Also available is cashew cheese for a vegan alternative, along with vegan sausage and pepperoni.
Additional toppings include onions, garlic, artichokes, spinach and jalapeños, as well as some of Sandler's favorites: mushrooms, green peppers and olives. A simple salad incorporates greens, red onion and cheese with a guest's choice of ranch or balsamic vinaigrette.
To drink, diners can choose from two beers on tap and canned selections including Urban Chestnut Brewing Co.'s Urban Underdog and 4 Hands Brewing Co.'s City Wide. A regular special features a 20-inch pie to go with a four-pack of Stag.
"My hope for this place is to offer really great pizza and an atmosphere that people are going to come back to," Sandler says – which sounds like a cue for folks hungering to attend Shakespeare Festival St. Louis' production of A Winter's Tale in Forest Park. 
Pizza Head, 3196 S. Grand Blvd., St. Louis, 314-266-5400, www.pizzaheadstl.com