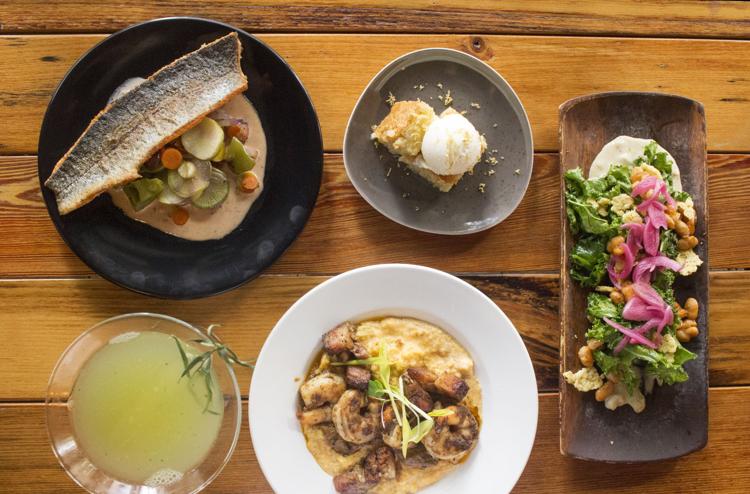 In St. Louis' Skinker DeBaliviere neighborhood, Pig & Pickle features Southern-inspired small plates in a New American restaurant setting with roots across the Mississippi River.
The establishment, which opened in September, comes from chef Ryan Lewis, who previously owned Driftwood Cocktail & Eatery in Springfield, Illinois. Lewis (a native of Bethalto in the Prairie State) operated that restaurant from September 2014 to July 2017 before retooling it for the St. Louis market.
Pig & Pickle fills roughly 2,000 square feet previously occupied by Atlas Restaurant, with 44 seats in the dining room and an additional seven at the bar.
"We try to keep things a little rustic, but there's also a contemporary feel behind it all," says general manager Carina Flesch. "It's a bit of country mixed with industrial."
Updates to the space include a fresh coat of orange paint, refinished floors and a bar wall made of repurposed wood in varying natural shades. On the bar's shelves, beside a miniature pig statuette gifted by former regulars, a hunk of driftwood pays homage to the restaurant's ancestor. To conceptually unite the porcine component of the restaurant's name to its other half, a row of colorful pickle jars illuminates the dining room.
A few popular items from Driftwood's menu made the trip from Springfield to Pig & Pickle, among them pretzel-crusted cheese curds, "fried chicken n biscuit," and one of Lewis' personal favorites: chicken "rinds," or Cajun-spiced fried chicken skins served with sweet-and-sour sauce and jalapeño.
Another of Lewis' top recommendations, charred octopus, incorporates roasted garlic and shallot, edible flowers, lemon zest, chili oil and lime vinaigrette. Additional popular picks include brisket jambalaya, with cured brisket, black-eyed peas, tomato and hoppin' John, as well as barley risotto with sweet potato, butternut squash, chili oil, fried egg, pickled onion and mushroom – both of which sound like exquisite bites before catching On Your Feet! at The Fabulous Fox Theatre.
Pig & Pickle offers a brunch menu, and the restaurant's drinks include various draft beers, a selection of wine and almost three dozen specialty cocktails, among them the self-restorative-sounding Winter Is Coming (Death's Door gin, Disaronno liqueur and saffron bitters). The restaurant also offers such refreshing boozeless libations as the Lemons & Lavender, with lemon juice, honey, juniper and lavender bud.
"I'm just looking forward to the opportunity to be in a bigger market and really refine what we're doing," Lewis says. "We're going to be a little more adventurous with what we put on the menu here." 
Pig & Pickle, 5513 Pershing Ave., St. Louis, 314-349-1697, pigandpickleeatery.com