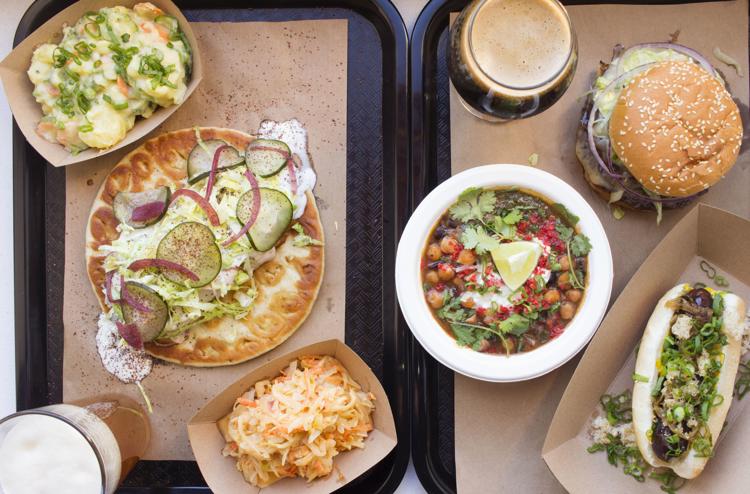 Mothership has landed!
The restaurant, which debuted in December inside Earthbound Beer in St. Louis' Gravois Park neighborhood, features smoked meats and more to complement Earthbound's delightfully experimental brews.
The opening of Mothership followed the expansion of Earthbound's brewery and tasting room on Cherokee Street, which took place in September. Creator Chris Bork of Vista Ramen, roughly two blocks east, began research and development on the menu, tapping Vista Ramen line cook Josh Adams to helm Mothership's kitchen. Prior to Vista Ramen, Adams worked in several positions, including manager at Alton, Illinois' Old Bakery Beer Company, making him a natural fit for this new collaboration.
"It's cool to step in and raise the bar for bar food," Adams says. "I'm really grateful for the experience I've gained so far. This is our chance to take things to another level."
Initially, Mothership's menu will be available five nights a week – except Sundays and Mondays, when Earthbound itself is closed – with counter service available at the bar. The offerings center around a smoker, with a particular emphasis on things that pair well with beer. Bork and Adams work with nearby Missouri purveyors such as California's Buttonwood Farm, Cape Girardeau's Root + Holler and Washington's Geisert Farms to source their proteins, which (it bears emphasizing) will rotate based on availability to include everything from pork and brisket to turkey and chicken.
One of Bork's favorites so far is a smoked turkey pita with sumac, pickles and yogurt; the turkey is brined overnight with thyme and honey to lend a bit of sweetness. Another highlight has been dry-rubbed barbecue pork, smoked with cherrywood for 10 to 14 hours. Baked beans cook simultaneously, absorbing the meat drippings for a complex texture and flavor.
Guests will also find hints of Vista Ramen's Asian-inspired culinary influences throughout the Mothership menu. The potato salad, for instance, involves a take on Korean potato salad, with fresh peas and cucumber, and a house cornbread comes with gochujang (fermented Korean chili paste). Gochujang also features in the veggie burger, which comes with fontina, Kewpie mayo, lettuce and red onion.
Additional selections include a smoked chicken chili with cottage cheese, pickled daikon and cilantro, as well as smoked kielbasa with onions, yellow mustard and pork rinds. The aforementioned smoked pork comes on a plate served with two sides, such as coleslaw or the baked beans and potato salad mentioned earlier.
Theatergoing guests, in short, should have no problem boarding Mothership for a quick drink or a full meal before catching Blackbird from St. Louis Actors' Studio.
"We're really excited to be working on another venture," Bork says. "We're really excited to be working with [owners] Stuart [Keating], Rebecca [Schranz], Jeff [Siddons] and all of their Earthbound staff because they're very welcoming. We like that they're doing interesting stuff, and this is new territory for us. It's cool to be a part of it." [LN dingbat]
Mothership, 2724 Cherokee St., St. Louis, 314-769-9576, mothershipsaintlouis.com