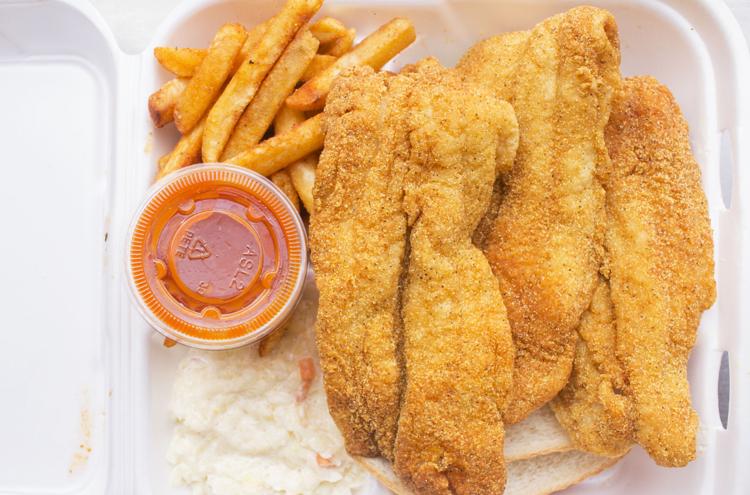 Whether for weightlifters or dieters, Clayton has a new way to celebrate "cheat day": In December, Mother's Fish, specializing in Southern-style fried fish and chicken, opened its doors there.
It marks the casual restaurant's third outpost currently, following locations in north St. Louis and north St. Louis County.
"There's nothing like it here in Clayton," says owner Sean Morris. "Most everything is fried, and we take pride in serving quality food. We thrive on cooking everything to order and try to focus on making sure everything is just right."
According to Morris, the family business originated in 1982, when his aunt and uncle set up shop inside a local lounge. Since then, his grandmother's recipes have graced the menus at around a dozen different Mother's Fish storefronts in the St. Louis area.
The most recent addition to the line fills the space previously occupied by Clayton Diner, with around 24 seats available in house and a largely carryout crowd. Mother's Fish retained the former tenant's vintage dinette furnishings but otherwise underwent cosmetic upgrades like up-to-date lighting and a new chalkboard wall bearing drawings of fishermen.
Behind the counter, cuts of fish get a coating of cornmeal batter rather than flour before taking a dip in hot vegetable oil. For a spike of flavor, each item has an Andy's Seasoning product as a base. Try it in items – sandwiches or entrées with sides – like the jack fillet, catfish fillet, catfish nuggets, tilapia or combination plate.
The Clayton menu features a decidedly pared-down version of the offerings at Mother's Fish's other locations because of time constraints for the nine-to-five crowd, but many favorites still made it into the culinary fray. One daily special, for instance, features seven whole wings for only $5. Other specials include fried shrimp, tripe and more.
Additional menu selections include cheeseburgers, turkey burgers, chili, chicken and waffles, and fish and grits, with such side items as potato salad, coleslaw, spaghetti, hush puppies and french fries. For dessert, choose from lemon or caramel cake, washed down with something from the restaurant's selection of bottled sodas.
All of these offerings should sound like delicious temptations before catching The Way We Get By from St. Louis Actors' Studio.
Mother's Fish, 6 S. Central Ave., Clayton, 314-499-7074