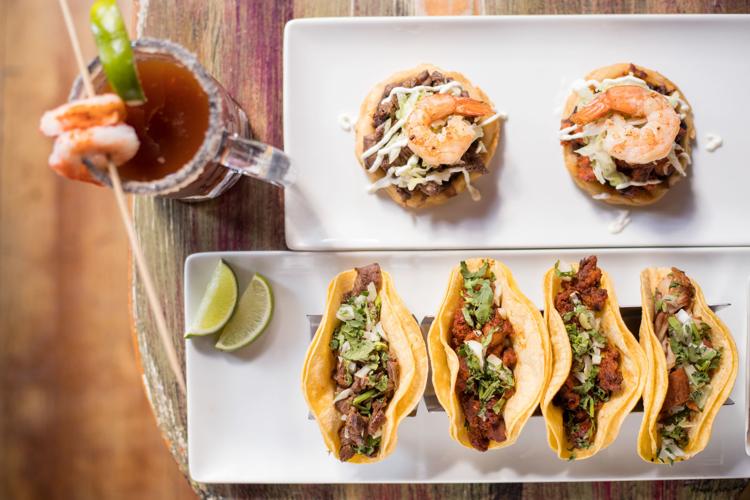 Since May, Más Tequila Cantina (the first two words of whose name mean "more tequila" in Spanish) has been building a reputation as a Mexican eatery and tequila bar in downtown St. Louis' storied Laclede's Landing district.
Featuring more than 80 kinds of tequila and a menu of south-of-the-border fare, the venture comes from owner Javier Geminiano, who runs the business with his brother, Jesus Jaimes, and wife, Michelle Geminiano.
"St. Louis has a lot of Tex-Mex restaurants," says Javier Geminiano, who moved to St. Louis around six years ago after owning and operating bars in Mexico. "I wanted to do something more authentic and different. We have dishes like tapas, great street tacos, sopes, tostadas, chilaquiles and carne asada – all prepared the real, authentic Mexican way."
Más Tequila Cantina fills the 6,000 square feet (give or take) previously occupied by Seven Zero Eight, complete with a backroom stage intended for use in Latin dancing events. The dining area seats 95, with an additional 20 seats on a front patio. The restaurant features a yellow, green and red color scheme highlighted by a decorative Day of the Dead motif and a back bar brimming with the extensive in-house tequila collection.
From the menu, guests can choose from such highlights as traditional street tacos made of corn tortillas filled with their choice of meat – steak, chicken, chorizo, carnitas or al pastor – topped with chopped onion, cilantro and lime wedges. The Más Tequila Special or alambre offers an alternative to Tex-Mex-style fajitas with arrachera (skirt) steak grilled with chicken, chorizo, ham, peppers and onions, topped with cheese and served with rice, beans and tortillas.
Additional options include tequila hot wings; carne asada served with beans, grilled jalapeños and nopales (cactus), onions and guacamole; and tostadas made of three crispy corn tortillas topped with beans, lettuce, crema and the guest's choice of steak, chicken, chorizo or carnitas.
"This is a place that I feel we can be proud of because we're offering you something great that we'd feed you if you came to our house," Michelle Geminiano says. "It was really important for Javier and I to find the best quality ingredients to really let the flavors shine through."
To pair with the fare, guests can choose from a variety of tequila-centric beverages from the bar. Cocktail options include the specialty Javier Geminiano once featured in his south-of-the-border bars: micheladas, which Michelle Geminiano likens to a Mexican version of a bloody mary. The namesake Más Tequila Michelada blends lime juice, salt, tomato juice and a special mix of tequila with the tippler's beer of choice, garnished with precooked shrimp.
Another refreshing option, the Paloma, contains el Jimador tequila, grapefruit soda and a pinch of salt. A menu of margaritas, developed by Jaimes, features such flavors as coconut made with Jose Cuervo's 1800 Coconut tequila. True to the establishment's name, the bar also offers around 26 varieties of tequila shots to choose from.
Whether you're ready for a tasty treat or a delectable drink, make sure to do so before catching Perfect Arrangement from R-S Theatrics.
Más Tequila Cantina, 708 N. 2nd St., St. Louis, 314-877-1700, Mástequilacantina.com