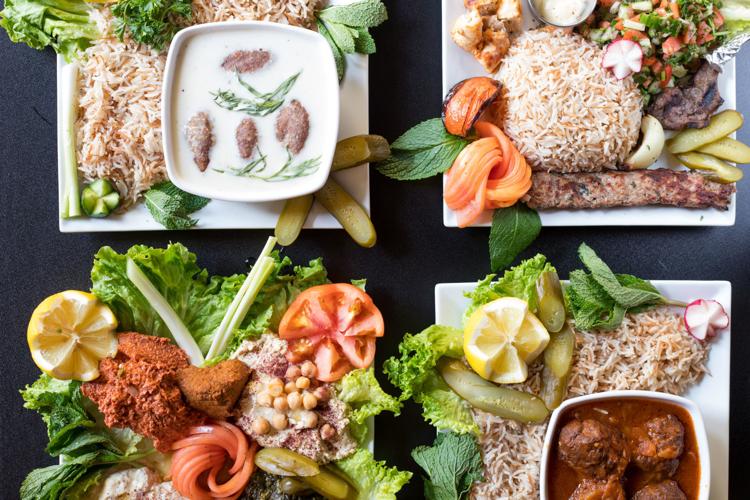 Levant, in St. Louis' Central West End neighborhood, features home-style Syrian cuisine in a loungelike setting, serving dishes from its namesake Eastern Mediterranean region.
The restaurant, which debuted just last month, comes from chef-owner Ahmad Hameed with his brother Aboud Alhamid, who owns Middle Eastern eatery Ranoush in University City. Hameed studied kitchen development for hotels and tourism in his hometown of Damascus, later earning a business degree from a European university. He then traveled to cook in various locales, including Thailand and the United Arab Emirates' Dubai and Abu Dhabi, before moving to St. Louis, where he's worked at Ranoush for the past few years.
Levant fills the space previously occupied by Kopperman's Specialty Food & Delicatessen, with seats available for 75 inside and an additional 25 on a patio. The dining room features a relaxed atmosphere with a gold-and-black color scheme and décor imported from all over the world.
To coincide with the worldly theme, Hameed's menu features dishes inspired not only by Syria but also by Turkey, Palestine and Israel. Although guests can find Middle Eastern standards like baba ghanouj and hummus, they can also sample unique specialties such as dawood basha, or meatballs cooked in tomato sauce, onions and garlic.
Appetizers include Syrian halloumi cheese with olive oil and dry mint, as well as chicken wings marinated in olive oil, lemon, garlic and Levantine spices. Soup and salad options include a lentil soup and "Aboud's Salad" with tomato, cucumber, onions, dry mint, olive oil and fresh lemon.
Main courses include freekeh with beef or chicken, featuring roasted and rubbed green durum wheat, served with yogurt and cucumber salad. Another highlight, kibbeh labanch, features balls of bulgur with minced onions, ground beef and Levantine spices, cooked with yogurt sauce. Molokhia is available with beef or chicken, cooked with corchorus olitorius (commonly known as "Jew's mallow"), garlic and Levantine spices. Regardless of which main course visitors select, they all sound like wonderful culinary options before catching one of the many shows adorning this year's LaBute New Theater Festival stage.
For an assortment of items, the Levant Mixed Grill features shish taouk, beef kabab and lamb chops, while a vegetarian platter comes with hummus, baba ghanouj, falafel, batata harra (spicy potatoes) and muhammara (hot pepper dip).
"I'm trying to make it classy fine dining, but our prices are really suitable for everyone," Hameed says. "It's really healthy, tasty comfort food."
Levant's full bar features happy hour specials from 4 to 7 p.m. Beverages include hot mint tea, Arabic coffee and specialty cocktails like the Syrian Love, with cherry vodka, cranberry and sweet and sour. Also, guests can avail themselves of a hookah, choosing from among more than 15 flavors. 
Levant, 386 N. Euclid Ave., St. Louis, 314-833-4400, levantstl.com