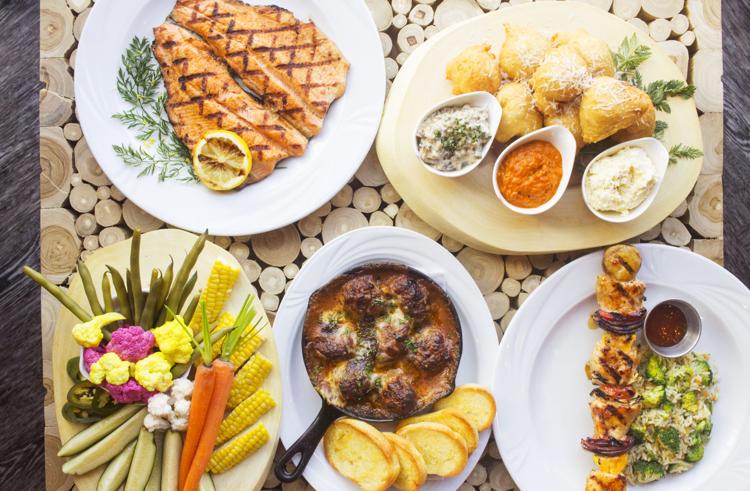 Last month, a renowned restaurant family revived Lemmons, an old St. Louis mainstay in South City that closed in 2014 after a dozen years in business.
As Lemmons By Grbic, the former pizza parlor and bar returned to life courtesy of the Grbics, who acquired Lemmons in August of that year, completely renovated it and then adopted a vibrant new food menu with a fresh Balkan-American twist.
The neighborhood eatery comes from siblings Erna, Senada and Ermin Grbic and their parents, Ermina and Sulejman Grbic. Grbic Restaurant on Keokuk, which opened in 2002, has gained an avid following with its authentic Bosnian specialties.
"Our dad purchased it with the intention of turning it into a sports bar," says Erna of the new operation. "Since then, we've gone through a lot of ideas as far as what Lemmons could become. He eventually stepped away from it and said, 'Go ahead and do what you want to do,' so we took his original idea and put more of our flavors into it. We're putting a spin on Balkan food with a Balkan-American menu that appeals to first- and second-generation Bosnians, as well as the larger community all around."
While Erna runs the event coordination and marketing side of both businesses, her siblings tackle both front- and back-of-house duties. Senada, who serves as executive chef at Lemmons and sous chef at Grbic, received formal culinary arts training from Chicago's Le Cordon Bleu, while Ermin studied culinary arts and restaurant-management programs at Forest Park Community College.
The approximately 5,000-square-foot space features a buildout from top to bottom conducted during the past three years, leaving only the original brick walls intact. The dining room and bar together seat around 99 patrons.
"Ermin is really rustic in his style, Erna is modern and I'm vintage-farmhouse style, so we incorporated it all," Senada says. "Everyone had their hand in everything, and it came together really nicely."
The interior exudes a casual loungelike feel reminiscent of its previous incarnation. Pops of yellow highlight the lemony theme, with several furnishings designed and constructed by Ermin. Burkart's Woodworks supplied materials for the bar, trim and some tables, alongside imported furniture from Sarajevo, the capital and biggest city of Bosnia and Herzegovina.
In the kitchen, Senada works tirelessly with her family to create dishes that pay homage to both their Bosnian background and classic Lemmons favorites.
"I'm being true to my roots but getting more modern and creative," says Senada, who has full creative control with this venture, whereas Grbic focuses entirely on traditional Eastern European cuisine. "It's essentially American-European fusion."
Take, for instance, the list of flatbreads on house-made dough, which hearken back to Lemmons' time serving Black Thorn Pub-recipe pizza. One such option features heavy Balkan influence in its unique toppings: feta, ćevapi (a grilled, skinless, sausagelike dish of minced meat), onions and mozzarella. Another, a sandwich, comes with their dad's recipe for chicken – lovingly dubbed "Babo's Chicken," babo being Bosnian for "father" or "dad" – and ajvar, or roasted red pepper and eggplant relish. Either of those dishes (or some other dish from the menu) would make a great meal before catching a performance of Insight Theatre Company's Next to Normal.
"Lemmons has been around [for some time], so we're pulling a lot of history in the creation of the menu," Erna says. "A lot of people aren't getting their original Lemmons dive bar, but we're hoping to call back to those old memories and feelings. People can have a taste of some of that old-school Lemmons in a completely new setting."
To that end, the Grbics perfected their own crispy buttermilk-brined fried chicken over the course of more than 100 trial-and-error tests – even consulting with a past-life Lemmons cook in an attempt to fill in a few vague parts of the original process. Beyond that, patrons should expect Balkan flair in nearly every item on the menu, from a Vegeta-seasoned burger on a Bosnian-style bun from Sana Inc. & Bakery to the fluffy uštipci (deep-fried dough balls) the Grbics grew up eating with an assortment of dips and spreads.
Behind the full bar, a dozen local taps are tied to a custom cooler and short keg lines. The beverage program also features a selection of wine and cocktails, including raspberry mojitos and house-made limoncello.
Lemmons By Grbic, 5800 Gravois Ave., St. Louis, 314-899-9898, lemmonsrestaurant.com