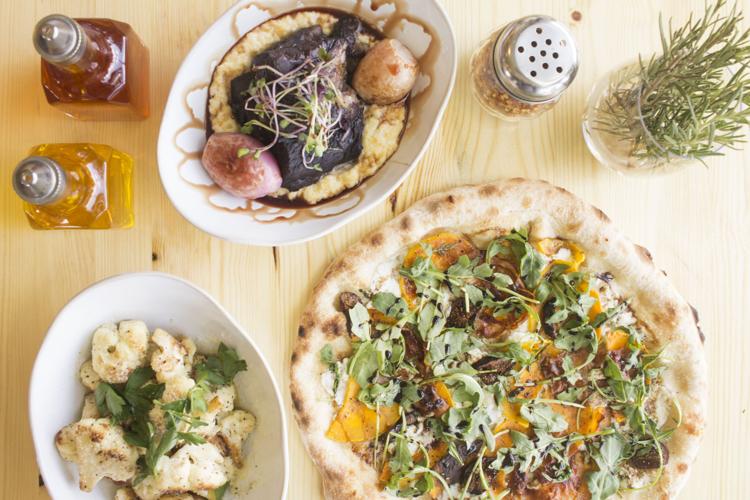 The second location of Katie's Pizza & Pasta Osteria – the casual family-owned restaurant from Feast 2017 Chef of the Year Katie Collier and her husband, Ted Collier – opened just last month in Town and Country.
"We have such an incredible team, and we're all so passionate about the brand and bringing it to people wherever we can," Katie Collier says. "Being able to go to a new community and have a farther reach is really amazing, and it will also challenge us to learn about growth and make our concept really strong."
The new restaurant fills the space previously occupied by Einstein's Bagels, as well as the space next door. At roughly 3,800 square feet, it seats 85 – 20 more than Katie's Rock Hill location, which opened in 2013. A large patio/garden wraps around the front of the building, offering additional seating.
The dining area features what Katie Collier describes as an eclectic yet polished look, with Scandinavian design elements mixed with nostalgic pieces from her family's former Clayton-area restaurant. Art pieces by Ted Collier and Collier's mother, Belinda Lee, adorn the walls.
From the kitchen, guests can find all of their favorites from the Rock Hill location via a shared menu, which will continue to change seasonally. The open kitchen also features a dough room, where guests can see pizza, handmade stuffed pastas and more made on-site.
Guests can choose from popular dishes such as black spaghetti with squid-ink spaghetti, prawns, scallops, clams, caviar and chili flake. Katie's signature fiori noodle is another highlight in the fiori arrabiatta with its spicy sauce (of garlic, tomatoes and dried red chilis cooked in olive oil) and arugula. Another favorite is squash blossom pizza with San Marzano red sauce, burrata cheese, cherry tomato, fresh oregano and lemon.
Other dishes Katie Collier recommends as crowd favorites are the watermelon salad with watercress, ricotta salata, oil-cured olives, pine nuts, mint and balsamic; Neapolitan meatballs with San Marzano sauce and Parmigiano; and Collier's famous fried artichokes with balsamic and stracciatella – all items that sound like delectable delights before catching South Pacific from STAGES St. Louis.
"We're really dedicated to keeping the spirit of the original [Katie's] and making our focus on incredible product, technique and service," Katie Collier says. "We're excited to get better and better every day."
Katie's Pizza & Pasta Osteria, 14171 Clayton Road, Town and Country, 636-220-3238, katiespizzaandpasta.com