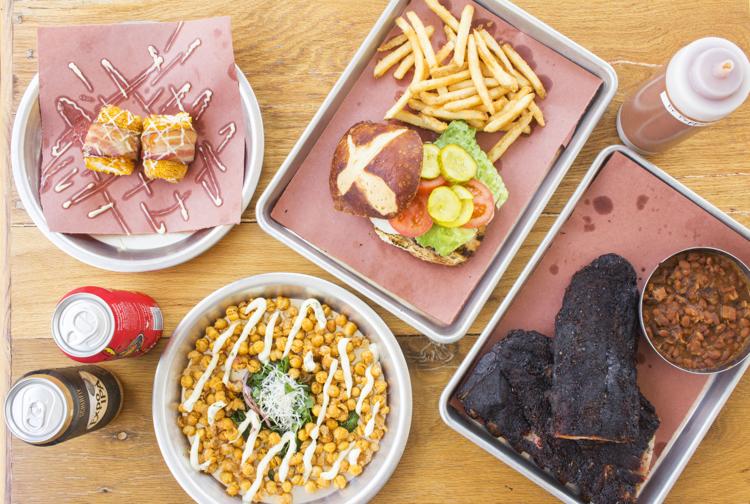 The many tenured and treasured restaurants of St. Louis' Hill neighborhood recently welcomed a newb, when J. Smugs GastroPit debuted in June at the site previously occupied by Leonardo's Kitchen & Wine Bar.
The new eatery – whose menu features barbecue, brisket burgers, appetizers and more – comes from Joe Smugala of Smugala's Pizza Pub and his wife, Kerri, with business partners John and Linda Smugala. Joe Smugala worked with longtime friend Alex Cupp, who owns The Stellar Hog in St. Louis, to develop his pit-focused fare, on which Kevin Weidlick serves as pitmaster.
"My wife grew up on The Hill," Joe Smugala says. "We're pretty familiar with the area and have a lot of friends in the neighborhood. We felt like The Hill was a great destination, but was lacking something different."
The 1,200-square-foot building (once a filling station) received a cosmetic makeover with help from Smugala's cousin, Samantha Smugala, and her company, Kvell. He describes the space as industrial garage-grunge with a modern twist. The bars are designed like old tire racks, while a garage door brings natural light into the dining area.
For main courses from the menu, guests can choose from pit staples like dry-rubbed baby-back ribs, pulled pork, pulled chicken and brisket, which pair with seven house-made sauces. Guests also can choose from flavor options including Carolina, Smug's Hot and Dr. Pepper.
The most popular entrée so far has been the brisket burger, which cooks on an open flame and comes with the guest's choice of cheese on a pretzel bun. And all things considered, with summer so recently fled, barbecue or something similarly smoky doesn't sound like a bad "mains" choice before catching Unsuspecting Susan from Inevitable Theatre Company.
Appetizer lovers, though, can savor such dishes as flash-fried garbanzo beans with Parmesan, smoked meatballs, bacon-wrapped street corn and pulled-pork poutine. Salads, meanwhile, include a caprese option and a seasonal chopped salad, as well as The Hill, with baby spinach, romaine, Kalamata olives, artichokes, Roma tomatoes and shredded Parmesan.
For dessert, J. Smugs GastroPit features Kerri Smugala's house-made sweets: cannoli, brownies and seasonal cupcakes. Kerri Smugala, who worked at Missouri Baking Co. for nine years, puts her pastry expertise to good use by creating rotating desserts; look for flavors like s'mores and pumpkin soon.
Drinks include a variety of local draft beers from 2nd Shift Brewing, Modern Brewery and Urban Chestnut Brewing Co. amid a dozen taps total. More than 50 additional canned or bottled options are also at hand, as well as a selection of wines.
"We are super excited about everything from the space that we occupy to the great food that we offer and the large selection of craft beers," Joe Smugala says. "We're very proud of our quick ticket times and the quality of our product." 
J. Smugs GastroPit, 2130 Macklind Ave., St. Louis, 314-499-7488, jsmugsgastropit.com