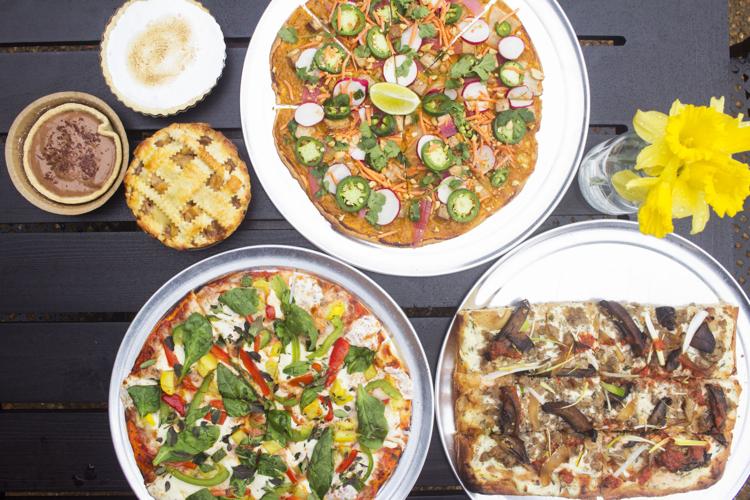 Humble Pie, which launched late in April in Ladue, offers pizzas made from small-batch organic doughs, as well as salads, desserts and more. It comes from co-owners Jess and Mark Lucas of Fozzie's Sandwich Emporium and fills the space previously occupied by Red L Pizza, which shuttered in November.
The approximately 1,000-square-foot space features a walk-up counter where guests can place and pick up orders prepared in a small kitchen and dough room. Seating is available only on a 20-guest street-view patio adorned with the restaurant's logo and a colorful floral mural by local artist Sho Ko.
Mark Lucas serves as head chef behind the savory pies, while Jess Lucas offers keen insights into Humble Pie's vegan offerings and beyond. She worked with baker Dottie Silverman, for instance, to create a menu of pastries, including small desserts and vegan treats.
"With Humble Pie, Mark and I just kind of wanted to bring both of our tastes and views to pizza," Jess Lucas says. "We're trying to keep it straightforward with clean, fresh food. … We want to appeal to families and businesses and have something everyone can relate to."
The debut menu features 19 specialty pizzas with a combined selection of more than 60 toppings including house-made sauces. The shop features antibiotic- and hormone-free meats, such as sausages from G&W Sausage and nitrate-free pepperoni.
Guests can choose from a house-made crispy thin crust or a Sicilian-style crust, both baked in the resident deck ovens; the latter crust, though thicker, is crafted to be light, airy and fluffy. A gluten-free crust is also available.
"A lot of times, pizza makes you tired, but even our Sicilian won't make you need a nap," Jess Lucas says. "You have these simple yet good ingredients in our doughs – organic, unbleached flour, a little yeast and not too much sugar. They're really straightforward ingredients that make you feel better and definitely taste better."
To that end, Humble Pie's traditional red sauce is made from organic San Marzano tomatoes and just a little seasoning; it tops offerings like the Humble Margherita, with fresh mozzarella, fresh basil, an olive-oil drizzle and pink Himalayan salt. Another vegetarian-friendly highlight, the BBQ Cauliflower pie, incorporates roasted cauliflower, fresh poblanos, sweet onions, smoked mozzarella and house maple barbecue sauce, which would make a great meal before seeing Madame Butterfly from Opera Theatre of Saint Louis.
Additional signature combinations include the Jambalaya Pie and the Lily Pad, the latter with leeks, caramelized onion, portobello mushrooms, sausage, garlic, fresh herbed ricotta sauce and truffle-oil drizzle. Small bites include garlic fingers, breadsticks and meatballs. A kids' menu and a hefty selection of salads are also available.
On the sweet side of pies, Silverman's goods are available under the moniker Dottie's Flour Shop and include small pies and pie pops in salted caramel apple, blueberry lemon and Gimme S'more (the last with hazelnut chocolate ganache and marshmallow fluff0. As a vegan option, Jess Lucas also currently offers Mexican chocolate pie, made with cayenne, cinnamon, silken tofu, vegan chocolate and a coconut-graham crust. Studding gluten-free granola bars are pumpkin seeds, dried cherries, flaxseed and vegan chocolate chips.
"We just want to put out good food that you feel good about eating," Jess Lucas says. "We're really passionate, believe in what we have going here and are excited to share it with everyone."
Humble Pie, 9783 Clayton Road, Ladue, 314-997-7070, eatthehumblepie.com