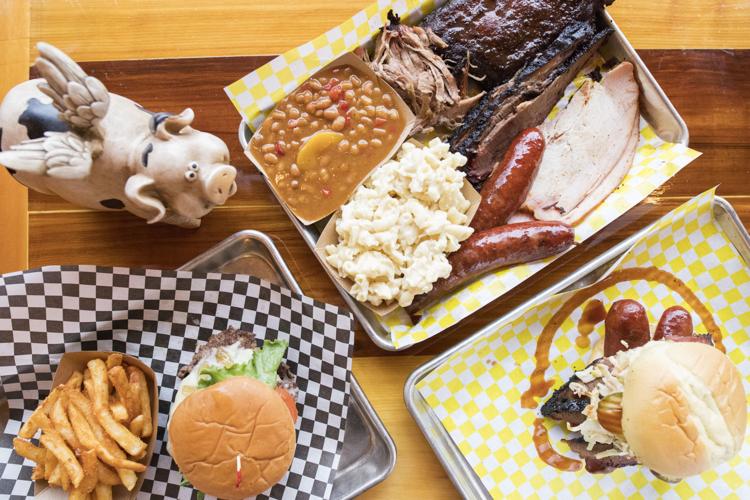 Barbecue aficionados, a sweet surprise awaits you in Kirkwood! Honey Pit Smokehouse, which debuted there in December, takes its name from the use of honey in place of sugar in many recipes and features Georgia-style 'cue and sides, as well as a selection of health-conscious options.
Shane Mihaljevic Sr. co-owns the restaurant with his son, Shane Mihaljevic Jr., and Zach Fagas. The Mihaljevics have experience owning and operating Imo's Pizza locations in Oakville, Fairview Heights, and Collinsville, Illinois. Fagas' culinary résumé, meanwhile, includes working at Sugarfire Smoke House, as well as Buckingham's BBQ Restaurant in Springfield, Missouri.
"We're just trying to serve the highest-quality competition-style barbecue we can," Fagas says. "We also have a macro menu with caloric information to provide a bunch of different healthy options."
Honey Pit Smokehouse fills the space previously occupied by Steak and Rice. With new additions to both ends of the building, the restaurant covers roughly 4,000 square feet and seats 88 guests. An extensive renovation yielded an aesthetic inspired by a log cabin, complete with handmade wood tables and knotty pine walls trimmed in cedar.
In the kitchen, a Myron Mixon water smoker infuses meats with smoke and steam. According to Fagas, this enables a hot, fast cook time in contrast to the low-and-slow methods of many barbecue restaurants. Meats such as the house pulled pork are injected with marinade and rested for 12 hours before cooking.
"I think people will notice the extra steps we're taking when they come in and eat. That's our whole basis – quality first," Mihaljevic Jr. says.
Highlights from the menu include peach-pineapple glazed baby back ribs, as well as sides like Provel mac 'n' cheese and pit beans cooked with whole peaches. The seven house barbecue sauces range from Hawaiian to tangy vinegar.
Additional options include house-made burgers with lettuce, tomato and Provel, as well as specialty sandwiches such as the Harley Hitter with brisket, sausage, pickles, coleslaw and Honey Fire sauce on a toasted bun. Macro-friendly options (developed with the help of local dietitian Emily Frisella of Fit Home & Health) include turkey breast, salmon and a zucchini-and-squash medley.
"I'm just excited to bring the best possible barbecue we can to the St. Louis area," Fagas says. "I just want everyone to come try it 'cause I know they'll be back."
Honey Pit Smokehouse, 951 S. Kirkwood Road, Kirkwood,314-698-2121, honeypitsmokehouse.com