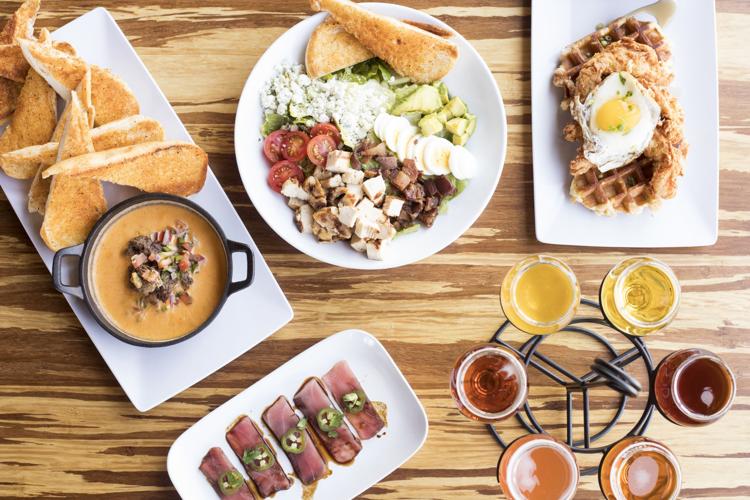 An epic selection of American craft beer became available in St. Charles in March, when Growler USA opened with 100 taps and a full menu of pub-style victuals.
Growler USA, which launched in 2014, now has more than 20 locations nationwide. Franchisees Nick and Jody Hester own the local location, the first in Missouri. Not coincidentally, Nick Hester, who also owns the financial advising firm Royalty Financial Group, is an avid home brewer.
"I've been home brewing for 18 years and love it," he says. "Here, I want beer to taste exactly the way it's intended to, out of respect to the brewers' craft. Our slogan is 'true to the brew,' and our taproom is designed to pour that perfect beer."
Growler USA fills 2,300 square feet space and seats up to 74 guests. Its rustic design features a reclaimed wood bar top, bamboo tabletops and brick throughout the bar and dining area. A patio also will open in warmer weather.
From the kitchen, guests can expect the brand's own take on American classics, such as its signature chicken and waffles with three chicken breast strips, a sunny side up egg and two Belgian waffles, served with honey butter, maple syrup and green onion.
Additional highlights include Pilsner chicken cobb salad and appetizers such as ahi tuna and short rib queso with beer-cheese sauce, short rib and pico de gallo, served with toasted crostini. To coincide with the drink menu's local focus, Hester hopes to offer St. Louis-inspired specials in the future, such as toasted ravioli and gooey butter cake.
Whether you stop in for a brew or a tasty meal – or even both –all of Growler USA's culinary treats and libations sound like great options before catching A Closer Walk With Patsy Cline at Playhouse @ Westport Plaza.
"We wanted to go with as many local breweries as we can handle," Hester says. "I really believe in [the] local economy, and I think that's what's great about the craft beer scene. You can find your beer in your market and leave knowing, 'That's my beer and that's my hometown,' and I like that pride."
The handpicked rotating selection of local and regional beverages – poured by cicerone-certified beer servers – includes such familiar brewing companies as Civil Life, Urban Chestnut, 4 Hands, Perennial and 2nd Shift. Additional offerings on tap include hard cider, wine and Kaldi's cold-brewed coffee.
"I just think St. Charles is really starving for the local craft beer scene, and I'm really excited to offer that in a family-friendly environment," Hester says. "People can have access to great breweries in a comfortable setting here and enjoy craft beer the way it was meant to be."
Growler USA, 3833 Elm St., St. Charles, 636-493-8111, growlerusa.com