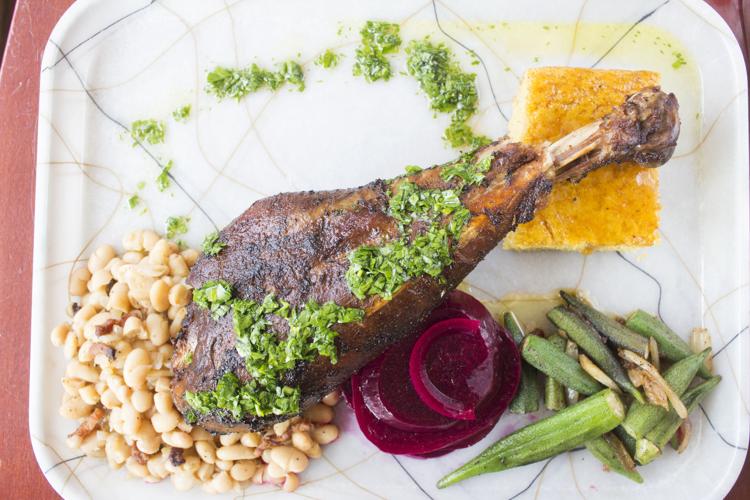 Grace Meat + Three, from husband-and-wife duo Rick and Elisa Lewis, debuted in September in St. Louis' Forest Park South East neighborhood and showcases their take on Southern cuisine with an emphasis on down-home hospitality in a fast-casual setting.
"Our big focus is on service and being really community-driven," Rick Lewis says, continuing by describing the cuisine there as "really kind of rustic, refined Southern fare … It's country food brought to the city for working-class people. It's like inviting people into our home for lunch."
Grace Meat + Three fills the approximately 4,000-square-foot space previously occupied by Sweetie Pie's at the Mangrove and fits approximately 100 guests, including first-come, first-served seating at the bar. The name Grace, of course, both connotes virtue, courtesy and goodwill and denotes a short prayer of thanks before a meal – suited to the Lewises' take on things.
Elisa Lewis designed the space with a modernized rustic vibe highlighted by a navy blue and gold color scheme and knotty pine accents. Reclaimed materials collected during visits throughout the South as well as around the Lewises' Cedar Hill home form the décor, including vintage shutters, bedsprings filled with greenery and the front end of a vintage truck mounted on a back wall.
Fixtures from Sweetie Pie's remaining in the space include some of its dining tables, as well as a St. Louis-themed mural at the entrance. Additional furnishings, such as bar furniture and a communal table in the front room, came from St. Louis' Goebel & Co. Furniture.
In the kitchen, Rick Lewis works with local ingredients from purveyors like Freshski's Fine Fresh Foods, Bohlen Farms and Side Lot Farms. Additional products include Buttonwood Farm turkey legs, some pork from Wenneman Meat Co. and Duroc cross-heritage breed ribs.
Calling the ribs "fantastic," Rick Lewis says, "We're rubbing those with a house blend of spices, and then we're smoking them over charcoal with a peach glaze." Beyond the ribs, Grace Meat + Three serves catfish and fried chicken, with other proteins (turkey legs, say) seasonally inspired. The restaurant, moreover, offers a daily protein that can vary from pan-roasted trout to pulled pork to roast beef.
Such sides as mac 'n' cheese, marinated beets and rotating varieties of peas and greens lend vibrancy to the menu. An ovo-lacto vegetarian highlight involves country-fried tofu featuring locally made MOFU tofu that's marinated, breaded, fried and served with mushroom gravy and an egg sunny side up. For dessert, customers can choose from banana pudding, chocolate chess pie and rotating seasonal options such as cobblers.
Nonalcoholic beverages include Excel Bottling soda on tap, Kaldi's Firepot teas and three types of iced tea: unsweetened, sweetened and a seasonal sweet tea in flavors like ginger-hibiscus. Alcoholic drink options comprise a selection of liquors, four local craft beers on tap, and canned and bottled beers.
Grace Meat + Three, in short, should put its guests in a marvelously mellow postprandial mood before, say, visiting New Line Theatre to view Lizzie.
Grace Meat + Three, 4270 Manchester Ave., St. Louis, 314-533-2700, stlgrace.com