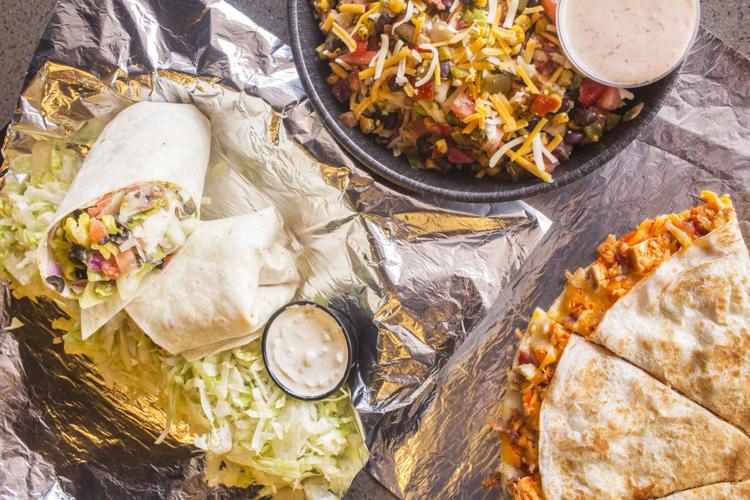 Late last year, the area's second Global Quesadilla Company opened in Creve Coeur, offering quesadillas, wraps, salads and nachos with a variety of internationally inspired toppings and fillings.
Owner and St. Louis native Ben Reeder originated the concept in 2004 with the launch of University City of Casa Dilla, which shuttered in 2008. The following year, though, the family-owned business reopened in Town and Country as the first location of Global Quesadilla Company.
"We take bold flavor concepts from all over the world that people seem to like and work them into quesadillas with cheese," Reeder says. "We have Italian, American, Mexican and Asian flavors along with barbecue and more."
The nearly 3,000-square-foot space seats roughly 80, which nearly doubles the capacity of the Town and Country storefront. Its simple interior design features polished wood, a skyline silhouette of St. Louis, a row of booths, four-tops and pub seats highlighting the logo's red-and-black color scheme.
At Global Quesadilla Company, the namesake products arrive as 15-inch grilled flour tortillas. All flavor combinations can be made into any of the available mediums on hand.
"Everything we do, we try to make big. We take tremendous pride in our product," Reeder says. "We want people to say, 'Wow!' when they get their food. When they taste it and it's good, we feel like we've done our job."
The most popular option on the menu, which generally hews to geographic names for items, is the Buffalo: Buffalo sauce, grilled chicken, bacon, cheddar and Monterey Jack – available as a quesadilla or wrap. Another highlight, the St. Louis, features Parmesan-tomato sauce, pepperoni, Italian sausage, Provel and mozzarella. A Thai peanut quesadilla, meanwhile, features grilled chicken, peppers, carrots, green onions and mozzarella.
Massive plates of nachos ("'Chos") are available in options including the Buffalo as well as the Mexico City with pico de gallo, grilled chicken, taco beef or steak, shredded lettuce and five-cheese queso. Salads include selections such as a Greek option with black olives, tomatoes, red onions, cucumbers, peperoncini, feta and Greek dressing. Last but not least, a kids' menu features quesadillas and "pizzadillas."
So all things considered, Global Quesadilla Company would make a hunger-satisfying stop on the road to The New Jewish Theatre's 4,000 Miles.
Global Quesadilla Company, 12366 Olive Blvd., Creve Coeur, 314-744-7100, theglobalq.com