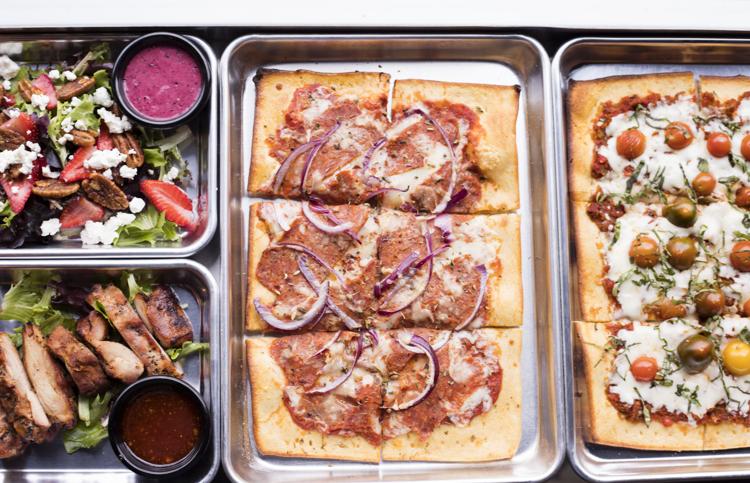 Last month in St. Louis' Forest Park South East neighborhood, a unique pizza/beer destination opened – with a bang!
Firecracker Pizza & Beer offers one-of-a-kind American-style pies, creative "pans," salads and more alongside a selection of 60 taps. The eatery comes from the neighboring Atomic Cowboy's Chip Schloss, who dubs Firecracker's service model "craft casual."
"I wanted it to be social – lots of pizza places, especially fast casuals, are about, 'Hurry up and stand in line,'" Schloss says. "We wanted to be a gathering place where people come to celebrate and hang out, similar to Atomic Cowboy."
Firecracker's 2,500 square feet, which formerly housed a bike shop, features 72 seats and an urban-rustic feel accomplished with the assistance of architect Nick Adams of St. Louis' Mademan Design. Defining features include brick, exposed rafters, floor-to-ceiling windows, butcher-block tables, red accents, an open kitchen embellished with shou sugi ban (an ancient Japanese charred-wood technique) and an array of stylish pop art.
"To me, 'firecracker' invokes all the best celebrations, and it's also a little dangerous, like the explosive pyrotechnics involved in rock 'n' roll," Schloss says. "As far as the food's concerned, it's a bit spicy. The other component of the concept is firecracker labels, which have cool colors, names and pictures. There are a lot of references to mine to create a really cool brand."
In the kitchen, chef Douglas Weerts – whose diverse culinary résumé includes cooking on movie sets for Deluxe Motion Picture Catering – works with a Swedish electric oven set to 650 degrees that turns out pies in just three minutes.
House dough with a simple, uncluttered recipe gets parbaked to ensure consistency and speed. The resulting medium-thin crust features a lightly caramelized, crisp exterior with a toothsome chew and the ability to hold up to robust sets of toppings. A subtle brush of red chili oil along the edges gives each pizza a touch of color and what Schloss calls a "firecracker-y snap."
Rectangular pies come out on standard quarter-, half- and whole-sheet pans. The smallest, or regular, size approximates a 12-inch pizza, a large approximates an 18-incher, and a jumbo slightly exceeds 28 inches. For those so inclined, Firecracker offers gluten-free pizza crust, as well as vegan cheddar.
Guests can enjoy such highlights as the Pepperonius Monster, with house-made king-size pepperoni, red onion, Firecracker sauce, mozzarella and lavender shake. Another signature item, the No Sleep 'til Brooklyn pie, features house turkey pastrami, white barbecue sauce, sauerkraut, mozzarella, Swiss cheese, Thousand Island dressing and toasted caraway.
Alternatives include Screamin' Mimis, smoked boneless chicken thighs basted and seared with sweet chili oil and served with white barbecue and "ninja" sauces. Cherry Bombs, meanwhile, involve beef and pork meatballs stuffed with blue cheese and roasted cherry-pepper relish, topped with Firecracker sauce and shaved Parmesan cheese.
A selection of salads includes the Whistlin' Kitty Chaser, with spring mix, goat cheese, seasonal berries, toasted pecans, cauliflower and seasonal berry vinaigrette. For dessert, guests might consider Holy Molé, habanero-honey-chocolate chip cookies with a hint of orange zest.
"We wanted to make it where you could share some small plates or salad," Schloss says. "The menu is designed to mix and match portions. The pizza crust isn't too filling, so there's room for other items and beers."
With sustainability in mind, Firecracker forgoes bottles and cans, instead offering 60 craft taps with rotating beers. Six taps are also dedicated to wines, ciders and cold-brew coffee. To complement the rock 'n' roll vibe of the brand's design, Schloss partners with St. Louis' Music Record Shop to provide a diner's-choice record bin beside the bar to pipe music through the room.
"My vision for Firecracker is that I wanted to do something different because I feel like the Grove [business district] is a different kind of neighborhood," Schloss says. "We wanted to do it in a way where it's not your ordinary pizza joint. It's the kind of pizza joint you'd find in the Grove, which means it had to be fun, celebratory and dangerous." 
Firecracker Pizza & Beer, 4130 Manchester Ave., St. Louis, 314-534-2666, firecrackerpizza.com