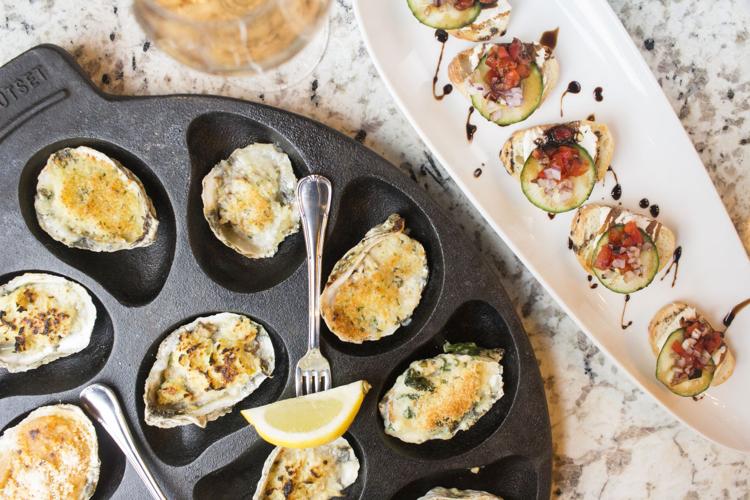 An extraordinary new specialty venue in Clayton showcases a classy pairing: Champagne and oysters. Extra Brut, which debuted in September, features a highly curated list of bubbly libations, small plates, a raw bar and more.
Extra Brut – open Friday and Saturday from 7:30 p.m. to 12:30 a.m. and Monday through Thursday by appointment and for private dining – comes from Whitney VinZant, the founder and owner of Louie's Wine Dive.
It takes its name from the vinicultural term for "extra dry" and fills roughly 800 square feet previously occupied by Area 14 Lounge & Sushi, with around 49 seats. Conveniently, sitting next door is the St. Louis location of Louie's, which opened in June 2016.
"The whole idea is that the only beverage offered here is sparkling wine, and we want to offer the best selection in the city and the best in the region," says the corporate beverage director for Louie's, Patrick Olds. "The service, food and product will be top-notch."
VinZant dreamed up the design for the interior of the lounge, which features a decidedly 19th-century French aesthetic with decorative details such as custom-made, aged-iron light fixtures, marble-topped tables, repurposed barrels and forest-green booths. Chefs Tim Adams and Will Volny developed the food menu.
"The thing we're going for is very approachable New Orleans-style oysters," Adams says. "We'll have all the classics. As we get kicked off, we're going to have more ability to venture into different delicacies, like caviar and maybe foie gras."
Cooked oysters include oysters Bienville topped with shrimp, bacon, cremini mushrooms, garlic, thyme and green onion; charbroiled oysters topped with a proprietary cheese blend in Creole bordelaise sauce; and oysters Kathryn stuffed with baby artichoke, garlic, Parmesan, extra-virgin olive oil and lemon.
A raw bar features items such as shrimp cocktail with colossal Gulf shrimp; oyster shooters with vodka, Crystal sauce and lemon; and oysters on the half shell flown in from the East, West and Gulf coasts. Small bites chosen to pair well with drinks include salty-sweet caramel kettle corn, goat-cheese crostini and aged prosciutto with fruit.
Olds, who holds the title of Advanced Sommelier through the distinguished Court of Master Sommeliers, works with a team that includes Certified Sommeliers Molly Greene, Bailey Schuchmann and additional Louie's staffers to compile an ever-evolving elaborate bottle menu. More than 60 varieties are available at any given time, ranging from $42 to $600 each from locales including the U.S., Germany, Austria, Italy, Spain and elsewhere.
Some recommendations from Olds include a nonvintage yet still extraordinarily complex Charles Heidsieck, as well as England-based Ridgeview Estate's Cavendish 2014, which features what he describes as doughy, applelike and nutty components. A few sparkling selections by the glass are also available and change frequently in the spirit of the Louie's wine board.
"I fell in love with sparkling wine totally about three years ago, and it's really neat to see how different varieties can taste from around the world," Olds says. "As a team, we want to share those unique experiences that you sometimes can't seem to accomplish with still wine."
Extra Brut, 16 S. Bemiston, Clayton, 314-669-9170, extrabrutstl.com