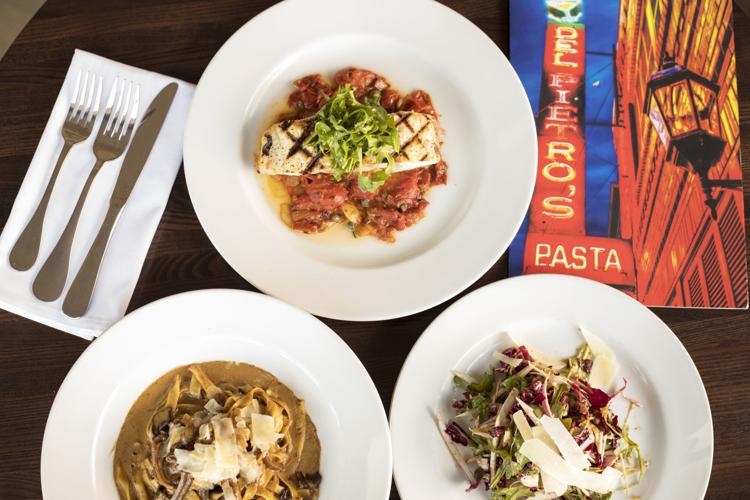 A former St. Louis dining staple reappeared in Richmond Heights in January, when Del Pietro's Pasta opened, cooking classics from its storied past with some modern takes on Italian dishes.
Michael Del Pietro Sr. and his wife, Mary Rose, opened the original Del Pietro's on Hampton Avenue in 1976. It offered pasta, pizza and veal parmigiana for 35 years before shuttering. Michael Del Pietro Jr., who owns Sugo's Spaghetteria, Babbo's Spaghetteria, Tavolo V and Via Vino Enoteca, sought to pay homage to his family with the brand's revival at the start of the year.
"The tradition is really exciting for me," Del Pietro says. "It's great to have my mother, who is such a welcoming person, here interacting with old and new customers. It's exciting to see her back and doing something she absolutely loves."
Del Pietro's Pasta fills the 3,500 or so square feet previously occupied by Riverbend Restaurant as well as Harvest, with around 85 seats. Inspired by a recent trip to Italy, Del Pietro worked with his wife on a simple, rustic design, complete with antique mirrors, gray velvet curtains and hanging wooden lanterns that cast a warm glow on the dining area.
From the menu, guests can choose from classics from the original Del Pietro's menu, such as spinach patties, bistecca modega (lightly breaded grilled steak with a white-wine lemon-garlic sauce) and linguine tutto mare with shrimp, crab and clams in a garlic cream sauce.
"We're doing some traditional Italian food here from the original restaurant, and we're doing some items that are a little more of today's cuisine per se," Del Pietro says. "We have some new items here that stand on their own and have their own identity."
Highlights among the new items include a roasted cauliflower pasta. the dish, inspired by a recipe from Del Pietro's grandmother, consists of cauliflower cooked with pancetta, garlic and chicken stock, finished with house-made pasta in olive oil. Another original dish, a mushroom pasta, comes with mushrooms, cream, garlic and truffle oil. So whether staying classic or going out on a limb, Del Pietro's Pasta seems like a delightful place to dine before catching The Color Purple at The Fabulous Fox Theatre.
The full menu consists of appetizers, a few salads, pizza, pastas and entrées such as roasted chicken dishes and sautéed veal dishes including vitello Marsala with tomatoes, onions and mushrooms in a Marsala wine sauce. From the bar, customers can choose from wine, beer and cocktails to pair with meals. 
Del Pietro's Pasta, 1059 S. Big Bend, Richmond Heights, 314-224-5225, mdprestaurants.com