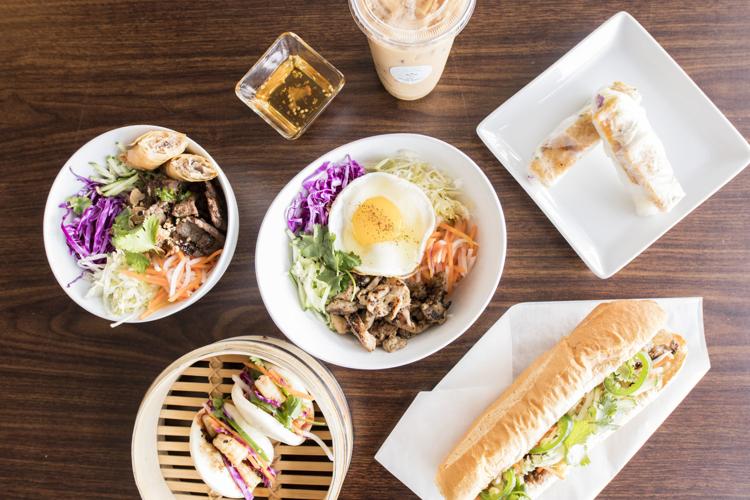 In Maryland Heights, a new restaurant features Vietnamese cuisine in a fast-casual format. DD Mau, which debuted in February, serves traditionally prepared grilled meats on bánh mì, bao, rice bowls and more.
DD Mau comes from first-time restaurateur Julie Truong, who grew up helping with her family's Vinh Chop Suey in St. Louis' Baden neighborhood. With DD Mau – a loose, playful translation of a Vietnamese phrase meaning "to go quickly" – Truong hopes to showcase her Chinese-Vietnamese roots by dishing personalized versions of family recipes she enjoyed as a child.
Truong, whose previous career path focused on fashion merchandising and marketing, says she saw an uptick in fast-casual eateries while living and working in Chicago. She also saw a need for more health-conscious options in the St. Louis area.
"I'm excited to bring this wholesome concept back home," Truong says. "You can't really get Vietnamese fast-casual anywhere in the area. These are all the things we always ate at parties. They're healthy and not overly filling."
DD Mau's 3,000 square feet features 48 seats in an airy, minimalist dining room decorated with endearing framed art involving food puns like "I'm soy into you" and "I wanna be jalapeño business." Truong generated the phrases, for which her friend Kimberly Brown drew whimsical imagery.
"It shows who I am – laughing, bubbly, goofy and giggly," Truong says. "The restaurant's very light and bright."
DD Mau features a pick-your-protein style format, paired with a variety of options. Guests can choose from steak, chicken, shrimp, pork and tofu in spring rolls, bao sliders, bánh mì, vermicelli bowls, salad bowls, rice bowls or fried rice. Each protein is marinated with lemongrass, shallots and garlic for two days and glazed with oyster and honey sauce during cooking.
"In Vietnamese cuisine, there are five elements in every dish – spicy, bitter, sour, salty and sweet," Truong says. "I learned how to prepare these dishes from my mom and made my own tweaks to them."
To that end, guests will find traditional condiments like fish sauce vinaigrette paired with dishes like noodle bowls, as well as more personal touches like a house-made garlic mayo on the bánh mì. The menu also features phở, including such options as traditional beef, chicken, shrimp and tofu with veggies. Appetizer options include egg rolls and crab Rangoon, and for libations, guests can choose from iced or hot Vietnamese coffee, matcha green tea lattes and Thai iced tea.
Whether improvising on your own meal or going a more traditional route, all of DD Mau's offerings sound wonderful before catching Torn Asunder from The St. Louis Black Repertory.
"Everyone should check it out because it's the only place you can get fast-casual Vietnamese food that stays true to the tradition of authentic recipes," Truong says.
DD Mau, 11982 Dorsett Road, Maryland Heights, 314-942-2300, ddmaustl.com