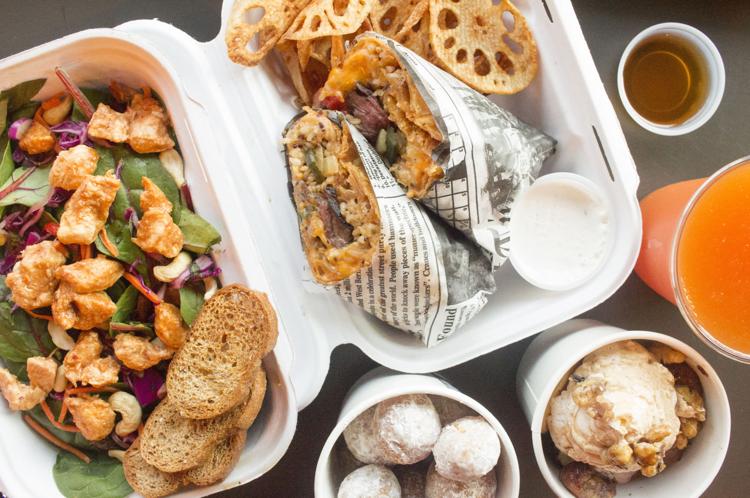 Midtown's street-food-inspired Crave, which opened on Washington Avenue in December, offers food-truck-style international eats, both savory and sweet, in a big-city inspired setting complete with a Times Square mural on the dining-room wall.
Chef Chris Ayala co-owns the fast-casual restaurant with Dave Holman, who designed the interior. Ayala's culinary résumé includes serving as the smoke master at The Shaved Duck and the sous-chef at The Scottish Arms. Ayala originally began consulting for Holman in 2013, working on menus for businesses including The Rustic Goat and HG Dance Club.
With Crave, Ayala pays homage to a childhood growing up on food trucks in Los Angeles, where his dad owned and operated early startups that served burritos and more. His menu features one unique spin on the handheld victuals: the "phatada."
"I wanted to have something approachable but different," Ayala says. "I decided to not follow trends and focused on comfort food for the average urbanite on the go – something quick, filling and tasty."
The phatada resembles an oversize tostada made from Indian flatbread that is wrapped up and stuffed with various ingredients, served with lotus chips. Try the signature item with filling combinations such as the STL Philly Phatada with thinly sliced marinated steak, sautéed peppers and onions, ancient-grain pilaf, Chihuahua cheese and queso.
Another selection, the Cantina Fish and Chip Phatada, features spicy seared tilapia, beer-battered cod, lemon-caper rémoulade, avocado slaw and French-fried potatoes. Quesadillas and nachos topped with smoked meat and veggie options also make up a bulk of the menu.
"This is basically a brick-and-mortar food truck. Everything is designed to go in completely biodegradable, compostable containers," Ayala says. "On the menu, you're going to see some very melting-pot-inspired food pulled from street food from all over the world."
Small bites include items such as biscuit beignets, Doritos-crusted mozzarella sticks and hot-buttered-popcorn chicken available in home-seasoned or Nashville hot flavors, served with melted garlic butter. A Philippine lumpia-inspired appetizer comes with your choice of jackfruit, shrimp or chicken filling with cream cheese, pickled papaya slaw and sweet banana dipping sauce.
Poke cups hark back to Ayala's days as a sushi chef in Chicago, featuring deconstructed sushi over warm rice. Selections include the Four-Alarm Tuna with spicy chopped yellowfin tuna, cucumber, cilantro and avocado. The Jerk Shrimp consists of garlic-butter shrimp, grilled pineapple, yuzu-glazed carrot and jerk sauce.
Salad options include the Yum Mi salad with mixed baby greens, pickled papaya slaw, roasted-chili chicken, cashews, crostini and sweet-papaya vinaigrette. Breakfast items include scrambled-egg cups and mini-silver dollar pancakes with toppings including spicy popcorn chicken or bananas foster. All of which sound like great grub before catching a showing of Zorba from New Line Theatre.
To drink, Crave offers frozen aguas frescas in flavors such as watermelon and papaya. Bottled sodas, fruity Calypso lemonades, coffee and tea also are available.
"I was able to do riffs on what my father was doing, take it to the next level and have it be this whole new evolution for this generation of modern-food enthusiasts," Ayala says. "We're trying to take the pretentiousness out of food and bring it back to Earth for people who enjoy solid flavors."
Crave Street Food, 2605 Washington Ave., St. Louis, 314-696-8480, wecravestl.com