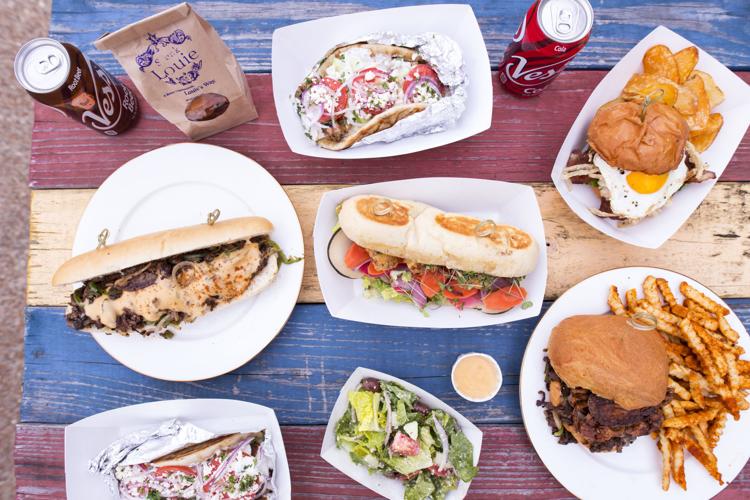 At the start of the year, the metro area's first food truck food court opened in St. Louis' Tower Grove South neighborhood: Court Louie.
Marking a unique collaboration among four members of the St. Louis Food Truck Association – Steak Louie, Farm Truk, Go! Gyro! Go! and Locoz Tacoz – Court Louie was founded by Steak Louie chef-owner Paul Listenberger. The food truck hub fills the 2,200-square-foot space previously occupied by AM Trading Co. and Peculiar Penguin, with 49 seats in its dining room and 20 more on the patio.
"We have a countertop, and everyone has their own station and [point of sale] system," Listenberger says. "Just like in traditional food courts, you go to the vendor you want to go to. It's nice because you can mix and match."
The ordering and dining areas feature a purple-and-yellow color scheme along with black to represent the asphalt that the trucks hit regularly. All businesses use the space as a commissary, cooking meals on their respective trucks while running off of the building's electricity. A standardized plug also enables guest food truck pop-ups.
Court Louie's resident mobile restaurateurs offer their one-of-a-kind specialties on-site, with rotating menus each night. According to Listenberger, Steak Louie makes house-made gourmet cheesesteaks with hand-cut meat; Locoz Tacoz serves made-from-scratch Mexican street food; Go! Gyro! Go! cooks Greek cuisine; and Farm Truk focuses on fare in the farm-to-table style. As a result, no matter the eclecticism of visitors' tastes or cravings of the moment, Court Louie can offer a plethora of options before those visitors catch Anything Goes from New Line Theatre.
"Everyone is also honing in on different items for this space," Listenberger says. "The whole idea is to not be able to get everything that's available on the streets. We want them to come here sometimes."
To that end, patrons can look forward to specials such as Court Louie's take on surf 'n' turf – a cheesesteak topped with the requisite onions, peppers and mushrooms along with Baltimore-style soft-shell crab. From Farm Truk, meanwhile, they can choose from standard highlights such as the BLE, with bacon from Washington, Missouri's Geisert Farms, lettuce and eggs sunny side up, accompanying basil aïoli and tomato on a brioche.
"I just think it's a cool space," Listenberger says. "Tower Grove has always been really good to us, and we want to invite everyone in to see how great the neighborhood is." 
Court Louie, 4001 Utah St., St. Louis, 314-305-5005, courtlouie.com