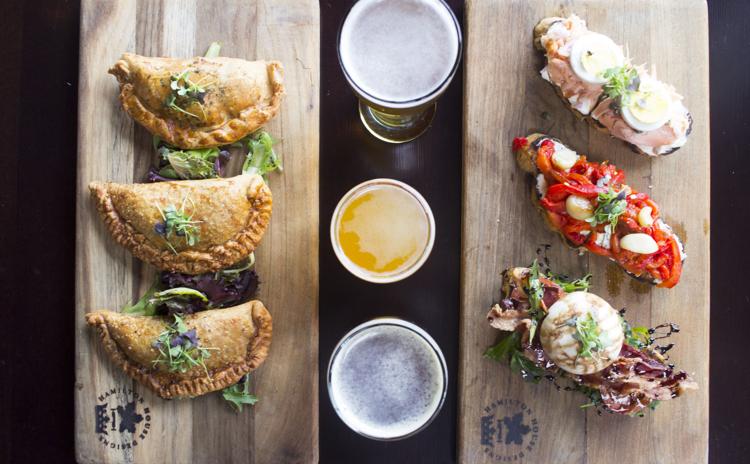 A bit of historic Ste. Genevieve, Missouri, came to St. Louis two months back with the launch of Charleville Brewing Company & Tavern in the city's Lafayette Square neighborhood.
The new venture – an extension of Charleville Vineyard Winery & Microbrewery from the self-styled "Mother City of the West," roughly an hour's drive south of the metro area – comes courtesy of a culinary partnership with St. Louis' Hamilton Hospitality Group.
That entity's Paul and Wendy Hamilton own Vin de Set, Eleven Eleven Mississippi, 21st Street Brewers Bar, Moulin Events and PW Pizza, while Jack and Joal Russell own the parent Charleville operation, which launched in 2003.
"A year or so back, we talked about doing our own brewery," says Hamilton managing partner Jason Arnold. "When this all came together, we decided that we'd love to do what we do on the food side of things, while they do what they do best on the beer side."
The 5,000-square-foot Lafayette Square property – a former mechanic's shop that also once functioned as a stable house – features a 100-seat dining room, full kitchen, bar, brewery, courtyard and small patio. St. Louis' Cohen Architecture Co. worked on the build-out for the space, which combines industrial elements with earth and wood tones that approximate the rural feel of its Ste. Genevieve County parent.
The kitchen offers what Charleville's director of operations, Tait Russell, refers to as innovative but still comforting tavern food. Snacks and appetizers, for example, include everything from beer-brined fried chicken wings, spicy pork rinds and fried chicken livers to lobster corn dogs.
"The concept behind our menu is primarily upscale Midwest and Southern cuisine," says executive chef Ryan Luke. "We'll be focusing a lot on what we can get across the street [at the Hamiltons' urban garden] – greens from our greenhouse and fresh eggs from the chicken coop. We'll also be utilizing beer and wine to showcase the great work Charleville does."
Bruschetta topping options include brie/apple, burrata/bacon, house-smoked cured salmon and more, among them weekly seasonal selections. Sandwiches come with fennel-and-cabbage coleslaw or bacon-potato salad and include a beef patty melt, a "country" Cuban and the Sloppy Joe Joe, a variant of the childhood favorite. Platters include bacon-wrapped meatloaf, beer-battered fried catfish and Luke's specialty, a beer-brined smoked and fried Amish half chicken.
Desserts comprise a coffee stout brownie, house-made ice cream, Key lime pie and a root beer float. All in all, with its varied menu, Charleville Brewing Company & Tavern makes a fine locale to enjoy a meal before heading to Albert Herring from Union Avenue Opera.
For zymurgy devotees, meanwhile, Charleville's new location features a seven-barrel brew house designed to craft five or six core year-round beers as well as seasonal and limited releases. (Head brewer Kevin Klein mentions that Charleville's 30-barrel flagship offers around 30 varieties throughout the year.)
Pine and pineapplelike notes characterize the top-selling Hoptimistic IPA. Other lighter summertime selections include Half Wit Wheat and Paul's Pils; initially brewed exclusively for Hamilton properties, the latter proved so popular and sold out so fast that it became an all-year offering. At press time, according to the listing, seasonal beers were Charleville's seductive Box of Chocolate Belgian ale and the new Long White Cloud pilsner.
The bar otherwise features nonalcoholic house-made root beer as well as four of Charleville's signature wines, such as barrel-fermented chardonel – a fruity libation with Missouri oak overtones. Also offered are shandy and sangria, as well as cocktails like the Charlerita, which replaces the tequila typical of margaritas with wine.
"We've been more of a tourist destination in wine country for the past 14 years, so we're looking forward to bringing our beer to the masses and connecting more with the St. Louis community," Russell says. "We're trying to make good beer for good people."
Charleville Brewing Company & Tavern, 2101 Chouteau Ave., St. Louis, 314-241-4677, charlevillebeer.com