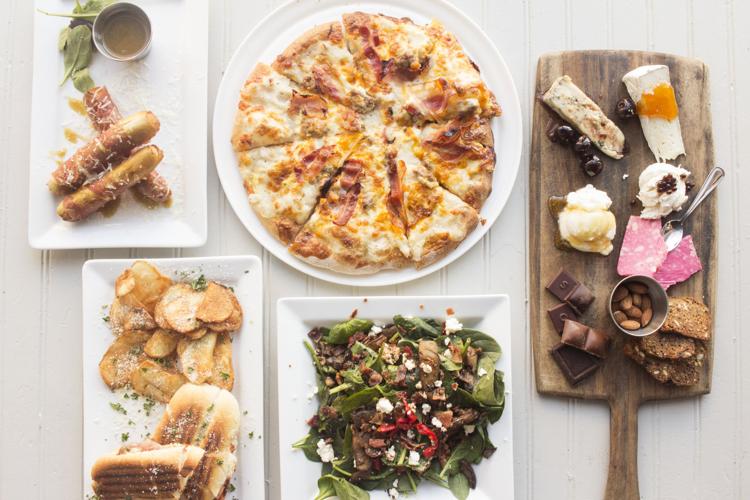 In September, St. Louis' Benton Park neighborhood greeted Café Piazza, following the rollout of its adjoining fast-casual counterpart, Café Piazza Now.
The venture comes from co-owners Vito LaFata III of Vito's Sicilian Pizzeria & Ristorante and chef Tim Meinecke, who served as Vito's executive chef for five years. Meinecke also previously owned Café 32 near Lake of the Ozarks in central Missouri. Michael Stampfl serves as sous chef, with Kenneth Harper as bar manager.
"Every small Italian city or town has its own piazza," Meinecke says. "That's where people go daily to gather, socialize, eat and drink, and that's kind of the concept we've created here. We want this to be a gathering place where people can relax, let us serve them and tend to their needs."
The first thing guests will notice on entering the restaurant is a large mural of St. Louis history painted on the ceiling and walls by artist Paco Rosic. Carpenter Ronnie Gregorecz also contributed a lot of structural and artistic elements to the building, such as finishing the bar with wooden red-wine-barrel staves and making the installation of a 4,100-pound oven in the kitchen possible.
Café Piazza seats roughly 50 guests, while Café Piazza Now (with which it shares a kitchen) has a capacity of roughly 30. The new venture offers a number of specialty pizzas, panini, salads, frittatas, appetizers and boards, all crafted from scratch.
"Basically, we're trying to create a hybrid of breakfast, brunch, and Italian classics and favorites. We're trying to keep it local and be neighborly," says Meinecke, who sources ingredients from local vendors including Bogart's Smokehouse, Gus' Pretzels, Tony's Sweet Heat, Citizen Kane's (for seasoning) and Mama's Sugo.
Visitors can sample Mama's Sugo in items such as St. Louis-style toasted ravioli under the menu's appetizers section – lightly breaded beef-stuffed lovelies "fried to a golden brown and served with Mama's Sugo marinara." Additional highlights from the menu include a Mediterranean charcuterie board; a fresh leaf spinach salad with portabella mushrooms, roasted red peppers, pecans and feta crumbles tossed in a house-roasted garlic-balsamic dressing; a traditional muffuletta panino; and Sicilian-style deep-dish pizza from an old family recipe.
From the full bar, guests can choose from a selection of eight craft beers on draft, domestic bottled beers, wine and signature cocktails such as the Benton Spritzer (prosecco, Aperol Italian apéritif and club soda over ice). Dubuque Coffee Co. drinks are also available, including cappuccinos and lattes. 
Café Piazza, 1900 Arsenal, St. Louis, 314-343-0294, cafepiazza.com