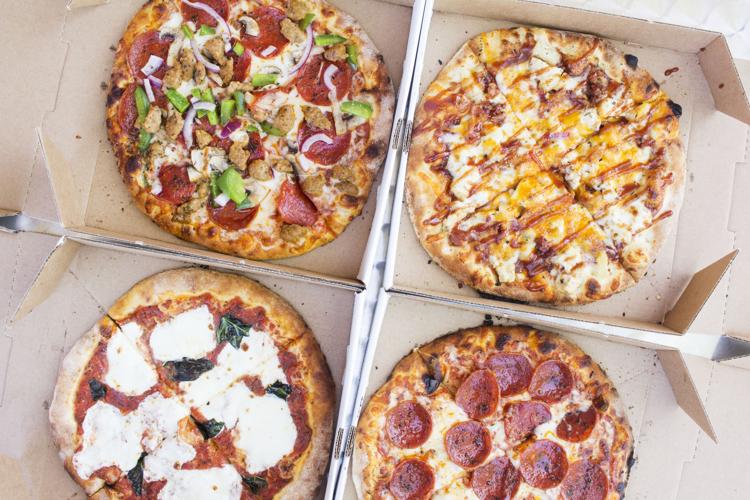 Devotees of pizza in general and the mobile Blues Fired Pizza in specific now can enjoy Steve Gleeson and Tony Lee's wood-fired pies in a stationary location, a kiosk in Kirkwood.
Since rolling out their first food truck nearly three years ago, co-owners Gleeson and Lee have cooked approximately 100,000 pies – around 30,000 pizzas annually from their oven on wheels. They hope to continue that trend at the new location seven days a week.
Blues Fired Pizza's shacklike commissary, complete with drive-thru service, features three tables and a dozen chairs for visitors hoping to scarf slices on-site. The restaurant roughly doubles the size of the company's mobile counterpart at a mere 220 square feet – "a truck without the wheels," Gleeson says.
Gleeson and Lee got their experience in the industry as Domino's delivery drivers for more than a decade each. Inspired by restaurateur Dave Johnson, who owns the Curbside Cookery food truck, the duo decided to build their own business from the ground up.
Although initially called Pyro Pizza, the brand's name changed last September to Blues Fired Pizza because of trademark issues; the revised brand name also reflects the blues music often played on premises and, of course, the pies cooked to order in its blazing oven.
"We do light, hand-tossed, one-size-only pizza," Gleeson says. "We make our own dough, use all-fresh ingredients and cook everything in a wood-fired brick oven in 2½ minutes. Everything is generated pretty fast."
Gleeson describes his and Lee's product as a classic American-style, hand-tossed pie with a Neapolitan touch. The approximately 36-inch oven can fit eight pizzas at a time, which move quickly in the oak-infused, 800-degree heat.
Foundations for Blues Fired Pizza's six signature pies include everything from simple San Marzano tomato sauce and house-made pesto to a variety of toppings. Specialties include top sellers like a concoction of garlic-ranch sauce, chicken, bacon, jalapeño, cheddar and mozzarella.
Another popular pick, a Philly cheesesteak-style option, incorporates American and Swiss cheese "sauce," steak, onion, green pepper, banana pepper, mozzarella and cheddar. For a classic interpretation, guests can try the Margherita, with tomato sauce, mozzarella, basil and olive oil. A deluxe pizza features tomato sauce, pepperoni, sausage, red onion, green pepper, mushroom and mozzarella.
Alternatively, guests can build their own pies from a list of topping options. Also available are soft drinks, chips and a salad (a spring mix, red onion, mushroom, cheddar and grape tomatoes with ranch or Italian dressing).
Whether you create your own or go with a classic, all sound like delectable delights before seeing The Marvelous Wonderettes from The Repertory Theatre of St. Louis.
"We're independent and the only true wood-fired brick oven in the area. Our brick ovens are our pride and joy," says Gleeson, who intends to roll out a second Blues Fired Pizza truck by the fall.
Blues Fired Pizza, 10800 Big Bend Road, Kirkwood, 314-822-1616, bluesfiredpizza.com