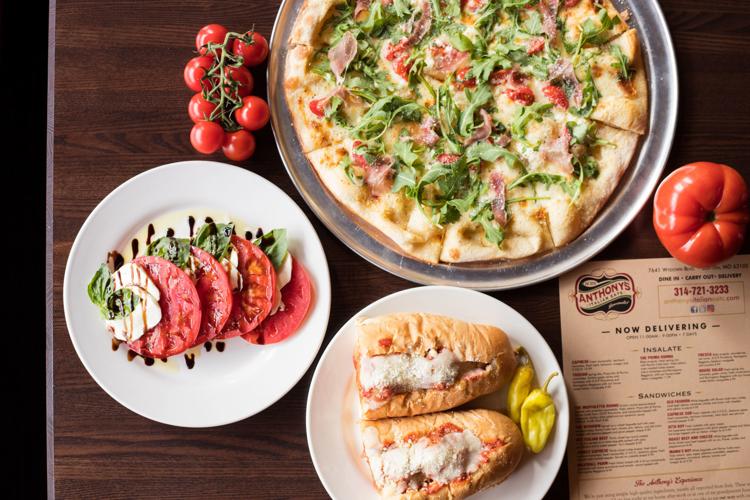 Anthony's Italian Eats, which debuted in Clayton in March from a familiar family of restaurateurs, features salads, sandwiches and pizzas available for dine-in enjoyment, carryout and delivery.
It numbers among the Gianino group of restaurants, which includes multiple locations of Joey B's, as well as Billy G's Kirkwood, Frankie G's Grill & Bar in Imperial and St. Louis' Aero Hawk Catering. Anthony's Italian Eats, the ninth business under the local family-owned brand, takes its name from Tony Gianino, who co-owns it with longtime friend and business partner Joey Barczewski.
"These are things Joey and I ate late at night at my house after work or at one of my grandparents' houses on Sundays," Gianino says. "We wanted to introduce everyone to the food we love. We had to find the right place to bring these recipes to."
Anthony's Italian Eats fills the roughly 800-square-foot space previously occupied by Manhattan Express, with 10 seats inside and another 20 on the patio. Webster Groves' Lori O Interiors worked on the space. Highlights include original terrazzo floors, a small market pantry and deli case, and classic dining room accents such as framed family photographs and hanging wine racks.
Tessa LaPlant, who previously served as the front-of-house manager at Joey B's Concord Plaza location, serves as the chef and general manager. In the kitchen, she cooks authentic Gianino family recipes using a variety of imported Italian ingredients.
"These are all my grandma's recipes," Gianino says. "Her specialty pizza crust is hand-tossed but thin and crispy. We have red and white pizzas. The red is your traditional San Marzano pizza sauce. The white pizza is one my grandmother made with heavy cream, fontina cheese and garlic."
Specialty pizza options include combinations such as The Anthony, with roasted red pepper, salsiccia, Parma cotto ham, shredded mozzarella, white onion, pepperoni and mushroom. Another popular pick, the Prosciutto and Arugula Bianca, comes with creamy ricotta, baby arugula, Parma prosciutto, shredded fontina, extra-virgin olive oil and cherry tomatoes.
Salads include caprese with fresh mozzarella, fresh basil, balsamic vinegar, extra-virgin olive oil and slices of heirloom tomatoes sourced from local grower Tony White. Sandwich selections include hot Italian beef as well as a meatball Parm on fresh Italian bread with four house-made meatballs, sharp provolone and tomato sauce, topped with Parmigiano-Reggiano.
To drink, Anthony's offers beer, wine and a selection of soft drinks. Bloody marys and mimosas will also be available during the patio season. House-made cannoli are available for dessert. From the storefront's market section, guests can choose from dried pastas, condiments, Volpi meats, olive salad, cheeses and more. All sound like delectable gustatory options before catching Life Sucks from New Jewish Theatre.
Anthony's Italian Eats, 7641 Wydown Blvd., Clayton, 314-721-3233, anthonysitalianeats.com