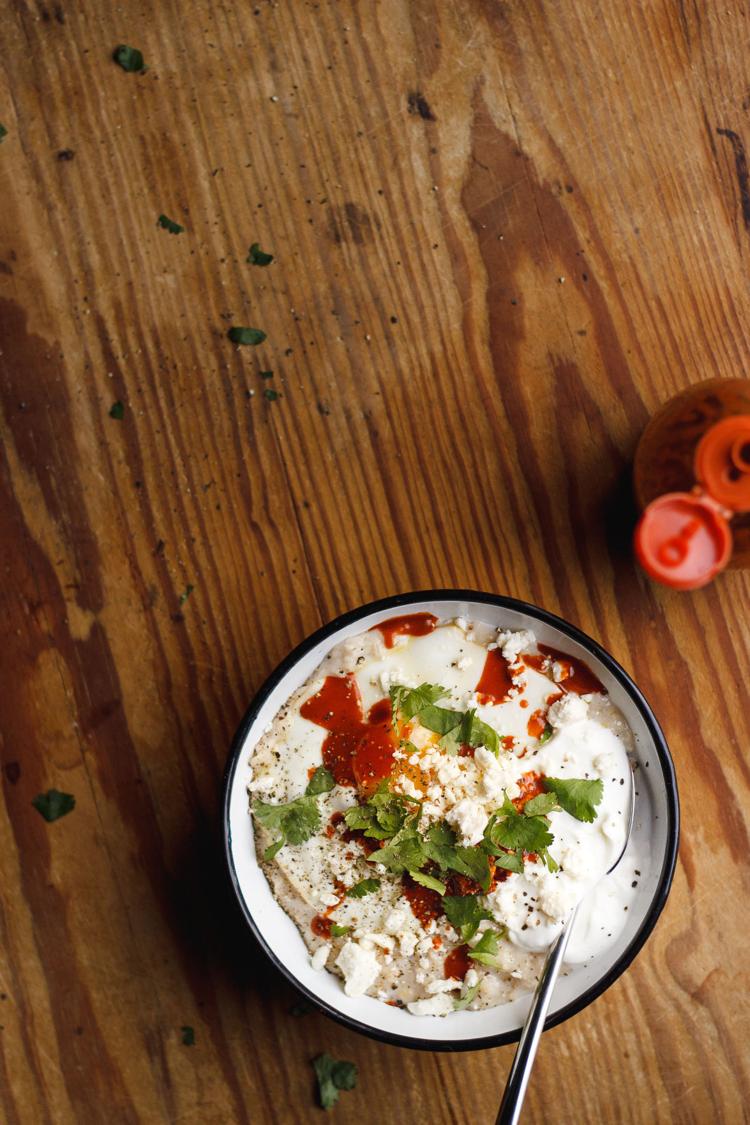 My ideal first meal of the day involves something savory, not sweet – something I can serve in a bowl and enjoy while snuggled up on the couch under a blanket, with a cup of coffee in hand.
If you haven't ever tried oats in a savory application, this is a great starting place. The oats create a solid base, the egg and Greek yogurt add protein, and the goat cheese and hot sauce bring a dash of umami, plus a little heat. It's simple yet versatile, allowing for great flexibility with additions and toppings.
Sherrie Castellano is a health coach, photographer and private chef based in St. Louis. She writes and photographs the seasonally inspired vegetarian and gluten-free blog With Food + Love. She has contributed work to Driftless Magazine, Vegetarian Times, Go Gluten-Free Magazine, Food52 and Urban Outfitters, among others. You can find her hanging with her aviation-enthusiast husband, sipping Earl Grey tea, green juice and/or bourbon.
SAVORY OATS BREAKFAST BOWL
If you don't like Greek yogurt, you can substitute sour cream or crème fraiche; feta is also great in place of the goat cheese.
Yields | 4 bowls |
2 cups rolled oats
4½ cups water
¼ tsp sea salt
¼ tsp freshly ground black pepper, plus more for topping
¼ tsp granulated garlic
2 Tbsp goat cheese crumbles
4 eggs
1 tsp hot sauce
1 Tbsp Greek yogurt
1 tsp fresh cilantro
| Preparation | In a medium saucepan over medium-high heat, bring oats and water to a boil. Reduce heat to low, add salt, pepper and granulated garlic, and simmer for about 7 minutes, stirring occasionally. Stir in goat cheese crumbles. Keep warm.
In a small saucepan, poach or fry eggs.
Divide oats into four bowls. Top each with hot sauce, Greek yogurt, cilantro and an egg, and serve.