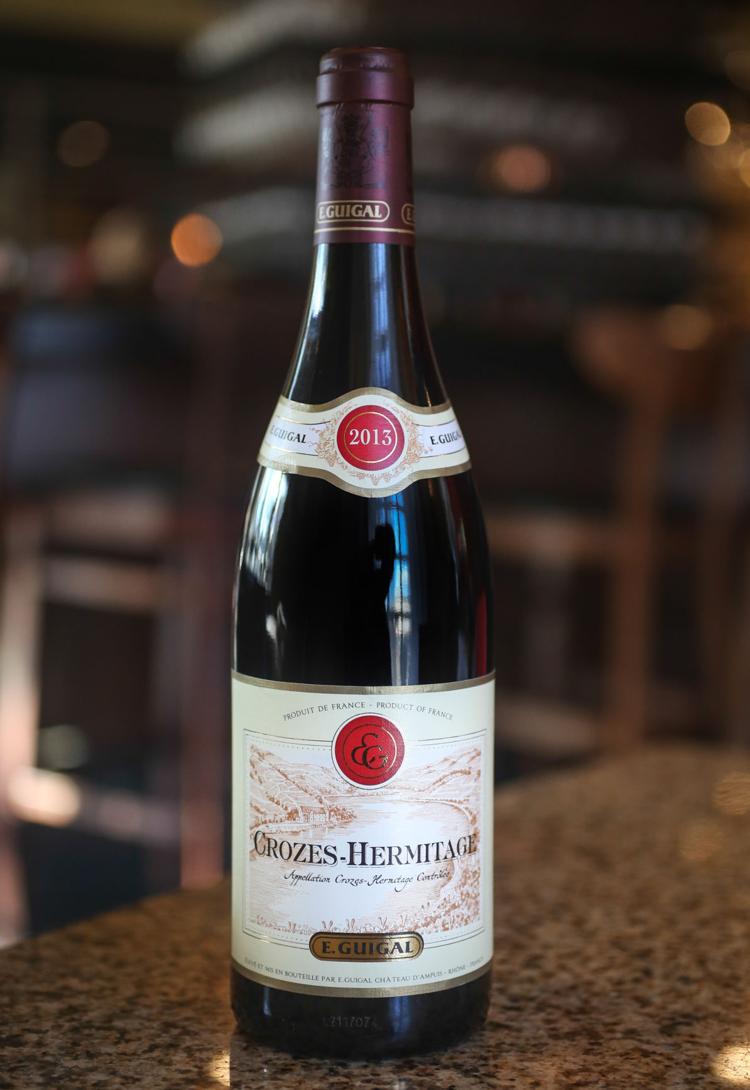 2013 E. GUIGAL, SYRAH – CROZES-HERMITAGE, NORTHERN RHÔNE, FRANCE
Grape: 100% Syrah
Owner/Winemaker: Marcel Guigal/Phillippe Guigal
Aged: 18 months in French oak
Approximate Retail Price: $26
TASTING NOTES:
Color: Garnet plum red
Aroma: Black currants, cherries
Taste: Dark fruits layered with tea and vanilla notes, balanced with acidity and moderate tannins with a lingering finish
Although E. Guigal has been making wine only for three generations, the vineyards there have been producing fruit somewhat longer – say, 2,400 years.
The winery, founded in 1946 by Etienne Guigal, occupies the famed Côte-Rôtie Appellation d'Origine Contrôlée, or AOC. Today it continues to run under the Guigal family, with Phillippe, Etienne Guigal's grandson, and his wife, Eve, along with Phillippe Guigal's mother, Bernadette.
Since 1995, they've been expanding their holdings by purchasing the famous Chateau d'Ampuis, beautifully situated facing the Rhône and the vineyards on the other side of the river; the Jean-Louis Grippat estate in the Saint-Joseph and Hermitage AOCs; and the Vallouit estate in the Côte-Rôtie, Hermitage, Saint-Joseph and Crozes-Hermitage AOCs. Over the years, the Guigal family has built one of the best reputations in Rhône by maintaining strict standards from the vineyard to the winemaking and by staying as natural as possible in all vinicultural aspects.
The Crozes-Hermitage AOC surrounds the Hermitage, in which the soils change and prices climb from $20 to $80 dollars a bottle. This makes Crozes-Hermitage products great entry-level wines of northern Rhône, where prices generally spike because of limited quantities and increased worldwide demand. Only 10 percent of Rhône wines come from northern Rhône, which centers more on red wine, generally syrah (a.k.a. shiraz), and for those experiencing the higher-end wines, like Côte-Rôtie, such wines can be an epiphany. Of course, in France, one has to recognize the quality producers and good vintages, and Crozes-Hermitage, which has both, makes it an excellent choice for adventure.
The Guigals own only the best vineyard sites in northern Rhône, totaling 150 acres, and continue to run their winery with an uncompromising vision of the future and impeccably high standards. They also have the only winery in Rhône with its own cooperage, to make the roughly 800 oak barrels they need for their aging program at Chateau d'Ampuis. The Guigals also have handshake deals for some of the best fruit in southern Rhône and make several wines from there.
Food Pairings: The earthy notes of Rhône syrah go well with similarly earthy-flavored cuisine, such as beef stew, grilled meats and vegetables, lamb, wild game, mushrooms and aged hard cheeses like Gouda. Likewise, for deglazing a pan after searing beef, syrah serves quite well. All things considered, late fall and winter are the perfect times to enjoy such wine and food!
Certified Sommelier Stanley Browne owns Robust Wine Bar in Webster Groves and Downtown at the MX, as well as Snax Gastrobar in Lindenwood Park.