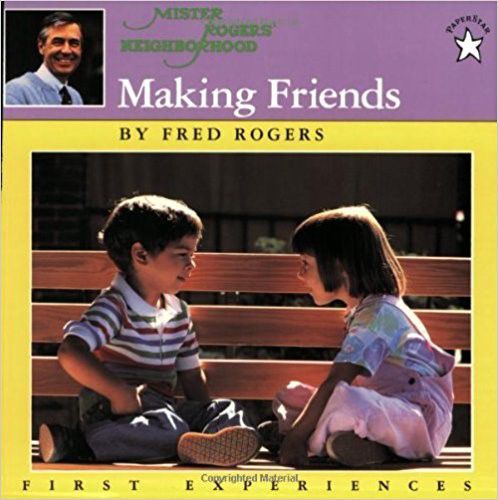 With summer's arrival, many preschool programs will soon end, and children will start camps, swimming lessons and other seasonal activities. As a result, they may feel anxiety about strange, different situations; transitions can really throw little ones for a loop and cause insecurity about reorienting themselves.
Parents, because you don't want to create needless doubt when explaining upcoming schedule alterations, reading a book about making new friends can open a conversation with children needing reassurance.
In that respect, consider as two appealing photograph-based choices – both used with children ages 3 to 5 years old in the Ready Readers program, with almost 10,000 children recently receiving the latter to read at home – Making Friends by the late early-childhood TV icon Fred Rogers (of PBS's Mister Rogers' Neighborhood) and Will You Be My Friend? by new author Susan Lurie with photos by Murray Head.
Rogers' nonfiction offering gives 2- and 3-year-olds guidance with the people, places and ways that friends find each other and engage in play. It also provides examples of normal discord between children and offers positive models for appropriate conflict resolution.
Adults might notice some dated clothing styles in Making Friends – it was first published in 1987 – but children should focus on the faces and situations of friends at play. As in all of Rogers' books, he saw children as complex beings with deep emotions, and he never doubted their abilities to cope and succeed.
Will You Be My Friend? introduces us to a meek mouse in need of a friend to accept him for himself. Mouse surveys his surroundings for potential pals, considering a myriad of animals. Without meeting them, though, Mouse anticipates their personalities as being far too different for a good match: "This peacock's too fancy. The frog is too jumpy. This duck is too noisy. That bird looks too grumpy."
Grumpy Bird informs Mouse that he already has a friend – he needs only to look to find that friend. The bird provides clues to help Mouse discover his mystery comrade, but Mouse can't quite solve the mystery. With Grumpy Bird's help, though, Mouse eventually does find a friend – and learns a lesson about not judging creatures by their outward appearances.
Lurie's story, told in flowing verse, should lend itself to discussion about feelings of shyness and the anxiety people, young and old alike, sometimes cultivate by imagining others to be different than they really are. It should serve as a good reminder for children ages 3 to 5 – and for the adults reading to them.
Otherwise, thanks to Head, Will You Be My Friend? features vibrant photography, showing distinct close-ups of more than 20 animals in their natural environments. The sharp images should allow children to see details of the animals and their surroundings in an interesting and engaging way.
In conclusion, parents, with a little time spent in advance with a book and some conversation, you can equip children with the confidence and tools they need to welcome whatever adventures may come their way this summer!
At Ready Readers, we know that "Kids Who Read Succeed!" If you enjoy reading and sharing the magic of books, please consider reading aloud to a classroom of preschool children in an underserved area of our community as a Ready Readers volunteer.