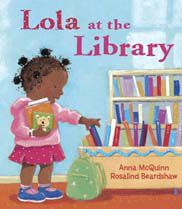 Library visits can be magic for kids and adults alike. Where else can you go, after all, for such fun, facts and fantasy?
In that light, parents, have you ever picked a book you simply knew your child would enjoy, only to earn a "meh"? You may have goofed in choosing something that pleased your own sensibilities, not his or hers. To avoid making that mistake, let your child browse on his or her own, as a potential first foray into guided independence.
Library visits let kids learn important lessons about making choices – and what kid doesn't want to feel in control? They also teach lessons in trust (checking out books, caring for them and returning them on time), in respect and appropriate behavior (observing rules so everyone enjoys library time and books go undamaged) and in sharing and patience (putting currently unavailable books on hold and waiting for them).
If regular library visits don't fit your schedule, though, introduce the idea through children's books like Lola at the Library by Anna McQuinn and illustrator Rosalind Beardshaw (whose work looks especially vibrant and inviting, with all scenes shown from a child's perspective).
McQuinn and Beardshaw's book delightfully depicts the titular toddler's excitement over a weekly trip to the library with her mom. In it, Lola prepares for the trip by filling her backpack with her library card and books to return, before meeting other kids and families who are visiting the library for story time. Lola's trip culminates in a post-library stop at the coffee shop for a special treat.
Otherwise, for a child with a contrary streak, try Beatrice Doesn't Want To by Laura Numeroff and illustrator Lynn Munsinger.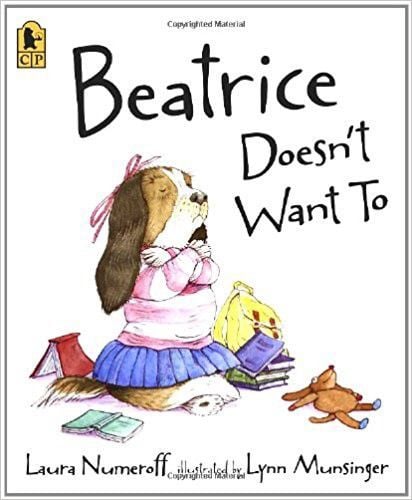 Beatrice, a persnickety pup, professes to dislike books, reading and the library. Unfortunately for her, Beatrice's brother, Henry, is babysitting her – and he needs to research a school project at the library. So Beatrice spends most of her time there annoying Henry as he tries to study.
On their third tandem visit, though, Henry takes Beatrice to story time, where she meets other kids and finds herself absorbed in a book read enticingly by a librarian. When it comes time to leave, Beatrice has become so engaged in perusing the book independently that Henry has to drag her from the library.
Numeroff captures Beatrice's petulance perfectly – so much so, in fact, that parents and even older children may well relate to Henry's dilemma of dealing with a temperamental tot. Also, Munsinger's illustrations convey the critter-kid characters' personalities in warm, colorful and often funny ways.
As a result, children should enjoy poring over the pictures in Beatrice Doesn't Want To, noticing the many details that invite repeated explorations of the story, and all kids who have enjoyed being read to should recall the pleasures of discovering exciting new stories that touch their hearts.
At Ready Readers, we know that "Kids Who Read Succeed!" If you enjoy reading and sharing the magic of books, please consider reading aloud to a classroom of preschool children in an underserved area of our community as a Ready Readers volunteer. To learn more, visit our website: readyreaders.org.