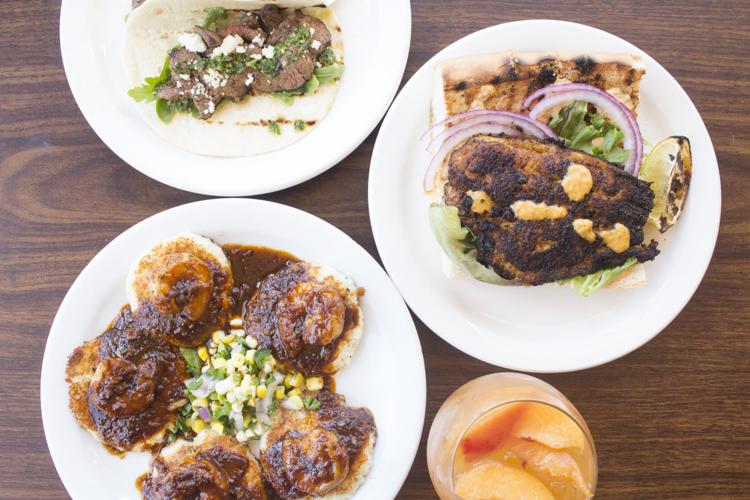 Sister Cities Cajun (named in hommage to the parallels in French heritage between St. Louis and New Orleans) occupies St. Louis' Marine Villa neighborhood and features a menu and bar blending classical French, traditional Cajun and modern American cuisine.
The restaurant boasts a rather storied if not downright peculiar history. It first opened in St. Louis' Dutchtown neighborhood (at 4144 S. Grand) in 2013, but closed when a car smashed through its window in January 2016. A reopening followed – as, improbably, did a second car, which rammed its front the following March.
That, understandably, made co-owners Pamela Melton and Travis Parfait choose to move. A few pop-ups at the now defunct Melt kept the couple's vision alive while they worked on finding a new location for their passion project.
When the 2,500 square feet or so that previously housed The Brick became available, Melton and Parfait started transitioning the building into an ideal live-work situation. The dining room features exposed original handmade brickwork, rustic reclaimed wood features, seafoam-blue highlights and abundant natural light.
"It's so earthy here, with a homey feel that goes right in with comforting food and our whole M.O.," says Parfait, who plans to make the spacious back patio as dog-friendly as possible.
In the kitchen, Parfait cooks plenty of favorites from Sister Cities Cajun's previously established menu, including staples such as Cajun smoked wings, seafood gumbo and chicken-and-sausage jambalaya.
Menu additions include offerings developed while serving food temporarily on Cherokee Street – tacos. Guests can choose from options like spicy shrimp or smoked chicken, as well as blackened zucchini or fish with Cajun slaw, rémoulade, and corn and poblano salsa.
Additional highlights include barbecue cochon, shrimp and grits, Creole pasta, a Cuban sandwich and house nachos with hand-sliced chips, chicken, pork, red beans, cheese, peperoncini and Cajun garlic dressing.
"We're also working on a little more dietary inclusion, with more vegetarian options," Parfait says. "Everything is whole and unprocessed – no MSG, partially hydrogenated oils or high-fructose corn syrup. We even started making our own ketchup for barbecue sauce."
From the full bar, incidentally, guests can choose from a short list of specialty cocktails, including seasonal sangria, bloody marys and a Green Goddess cooler with green tea, cucumber simple syrup, lime, gin and fresh mint.
Otherwise, Sister Cities Cajun plans to start serving breakfast fare (following the reported rollout of brunch offerings last November).
"We pride ourselves in serving country Cajun food," Parfait says. "I'm from south of New Orleans. New Orleans tends to serve a lot of tourist food, so I like to bring in some down-home bayou Cajun. It's rustic, authentic comfort food."
Sister Cities Cajun, 3550 S. Broadway, St. Louis, 314-405-0447, sistercitiescajun.com