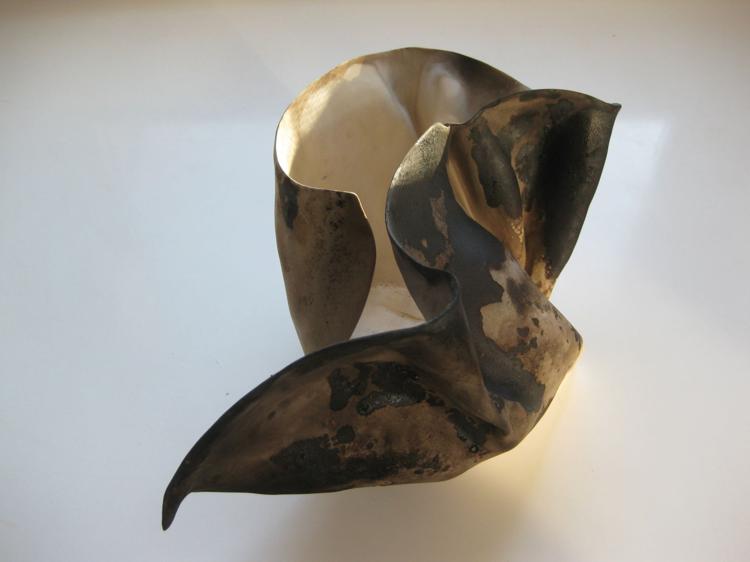 Perhaps no art form more adroitly embodies the ancient Greeks' elemental earth, water, air and fire (loosely congruent to today's states of matter – solids, liquids, gases and plasma) than ceramic sculpture, as illustrated by the untitled piece by St. Louisan Susan Zimmerman shown here.
That 2016 hand-built porcelain measures 13 inches long by 8 inches tall, Zimmerman notes, and displays an almost botanical delicacy, denying the intractability of clay, the countervailing rigors of flames and fluids, and the vicissitudes of whatever we're breathing from day to day.
Despite its undeniable physicality, the piece looks as if it might waft away on spring's latest vagrant breeze. In its thrilling ethereality, in fact, the work suggests the 3-D incarnation of a previously unknown floral by Georgia O'Keeffe.
"I have worked as a ceramic artist for the past decade," Zimmerman says, "creating organically designed and primitively fired porcelain vessels.
"'Organic'" best characterizes my porcelain hand-built vessels that evoke enigmatic narratives about nature. Each vessel begins as a ball of clay in one hand and not knowing in the other. There are no sketches – only a stream of consciousness flows through my mind as a vessel takes shape.
"The inexplicable forms come from working the clay till it bends and folds. The unglazed works are shaded in earthy hues that come from a very unique style of smoke firing."
With impish wit, Zimmerman responds to a standard Art and Soul request for an abbreviated curriculum vitae that cautions against (let us say) excessive exuberance.
"I've attached a most humble one-page résumé," she says, before continuing, "I don't think I'll ever have a five-page-long CV."
That CV cites an initial two-year stint at the University of Missouri-Columbia that transitioned, incongruously, to a Bachelor of Business Arts degree from the University of Texas at Austin.
Even more incongruously, if not downright masochistically, Zimmerman's résumé mentions working as a journalist for the past two-plus decades, "[c]overing stories about destinations, nature and history" in more than 100 articles in national and even international publications.
As an artist, meanwhile, she has taken part in more than two dozen specified exhibitions since 2005.
Among those exhibitions, Zimmerman relates an intriguing offshoot of her artistic métier.
"For years, I was focused solely on the finished ceramic pieces until I discovered an interplay between clay and sunlight by photographing my work," she says. "This 'Eureka!' moment opened my eyes to a new way of seeing.
"By exposing my hand-built vessels to natural light, I unlocked the door on a microcosm that had long been dormant. Taking my three-dimensional art into a two-dimensional medium by deconstructing my vessels into an abstract format became a new creative work for me."
To learn more about our featured artist, visit facebook.com/susanzimmermanart.
St. Louis-area artists who wish to be considered for future installments of this monthly department of Ladue News should email inquiries to bhollerbach@laduenews.com with "Art and Soul" in the subject line.