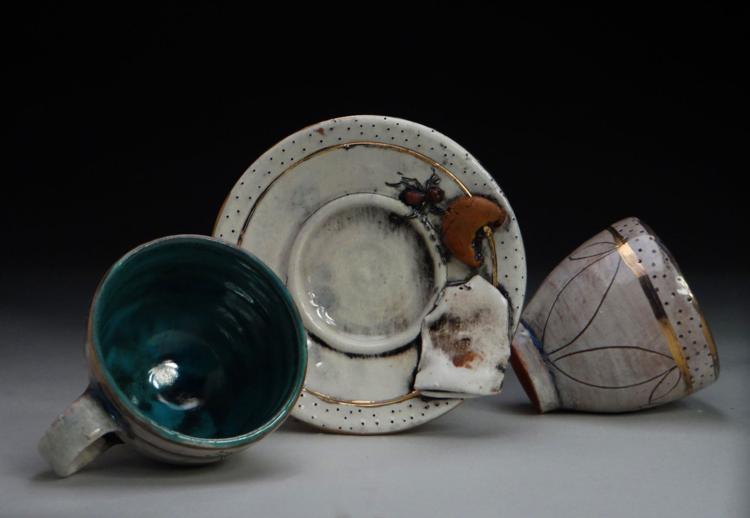 An eerily Early Baroque aura infuses Cups & Saucer, recalling a (nonspecific) canvas by the Milanese giant Michelangelo Merisi da Caravaggio.
With luck, that perhaps-daft observation won't embarrass the creator of the work on display here, Edwardsville, Illinois, resident Susan Bostwick, who may have harbored absolutely no such intention in its creation or presentation.
Also, admittedly, Cups & Saucer – which dates from earlier this year and measures 5 by 5 by 5 inches – lacks both the spike of light customary of Caravaggio's influential tenebrism and his figurative dynamism, but then, so, too does the Milanese's Basket of Fruit, a jubilant little oil palimpsest he painted circa 1599.
Still, Cups & Saucer's "earthenware clay, layered with slips, stains and glaze through multiple firings," to quote Bostwick, shares Caravaggio's restrained yet somehow otherworldly palette, as with the blue-green of the interior of the left-hand cup, its aqua exterior, the chestnut and predominantly cream color of the central saucer and the gold-banded beige of the cup on the right.
Beyond any other Early Baroque fancies, Bostwick relates that she "has enjoyed a career in the arts as a maker, educator and advocate," continuing that her passion for them began during her student days in St. Louis' Central West End neighborhood, at Rosati-Kain High School, "where the arts were key to the curriculum."
Following her graduation both from Rosati-Kain and from Webster University in Webster Groves, Bostwick belonged to the Firehouse Pottery cooperative in St. Louis' Soulard neighborhood before relocating to Edwardsville; there, at Southern Illinois University Edwardsville, she earned a Master of Fine Arts degree in ceramics.
Subsequently, Bostwick relates, she's taught at St. Louis' Craft Alliance Center of Art + Design, Ladue's esteemed John Burroughs School and her Illinois alma mater, as well as contributing to numerous community arts projects and exhibiting her work nationally. A number of publications, she adds, have included certain of those works, among them 2000's Teapots Transformed: Exploration of an Object by Leslie Ferrin from F+W Media's North Light Books imprint.
Currently, Bostwick makes her works available through galleries, art fairs and "alternative" settings, and her home studio "has become a space for collaboration, workshops and continued investigation."
"I'm not much of a consumer, and I'm somewhat uncomfortable about populating the world with more stuff," Bostwick, a bit abashedly, confesses. "Nevertheless, I'm a persistent maker and storyteller.
"I use earthenware clay to create still lifes that evoke a sense of nostalgia and suggest a backstory. Although clearly inspired by the garden's critters and crops, my relationship with objects and family winds its way into my work. The cast includes my childhood tea set, shards found in the creek behind my house and every bit of everything sold or saved from my parents' lives.
"Working with clay provides endless possibilities, challenges and satisfaction." 
To learn more about our featured artist, visit susanbostwickceramics.net.
St. Louis-area artists who wish to be considered for future installments of this monthly department of Ladue News should email inquiries to bhollerbach@laduenews.com with "Art and Soul" in the subject line.