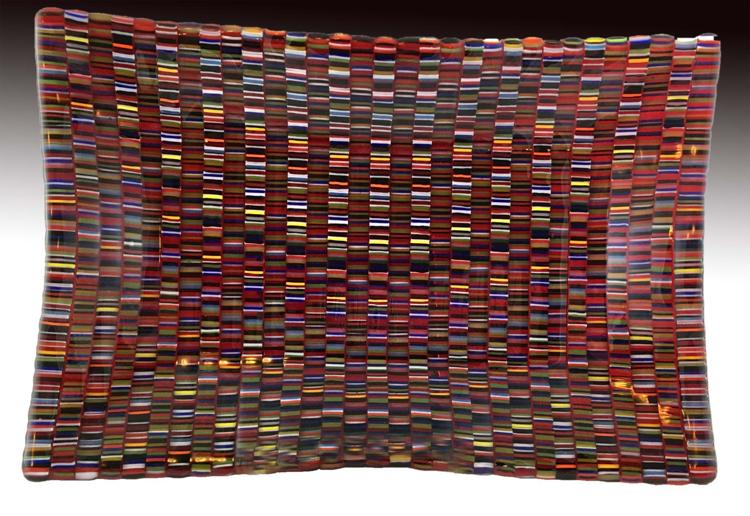 In its analog resplendence, Nina Schatzkamer Miller's Lots of Strings Attached looks somehow digital.
At a glance, it "reads" like a culled, alternative special effect from The Matrix, the Wachowski siblings' 1999 cyberpunk blockbuster, or some similar cinematic romp, with column after column of cascading colors replacing codemonkey binaries.
Miller – an Olivette native who returned home in recent years following various peregrinations – crafts bright-colored kiln-fired glass art in her home studio, most of it functional (platters, bowls and plates), some wearable (jewelry and hair accessories) and some just whimsically decorative. Without giving further detail, she also mentions "a new special interest in Judaica."
Miller's interests, she does admit, didn't always run so true, early focusing on "playing all of the stringed [musical] instruments and taking art classes in which [I] only wanted to make horses in every art form." After subsequently studying Romance languages and graduating from Wash U, she toiled in the computerized ticketing industry before fleeing corporate America to rear three sons.
Miller later returned to art both as an avocation and as a means of volunteering at her sons' schools, for which she sewed costumes and made classroom auction projects, often quilts. That led her to study glass fusing at Glasshopper Studio, Art Glass Array and Craft Alliance Center of Art + Design. As a quilter, Miller recalls, she'd "been drawn to the puzzle of putting different colors and fabrics together, and this translated well to glass," noting that her "quilt patterns" nowadays comprise that material.
Select pieces of Miller's sell online through Amazon Handmade/Handmade at Amazon, at shows, on commission and (beginning in April) in Richmond Heights' Knox Gallery of Fine Art.
"Lots of Strings Attached is the first piece I made in what I plan as a series of similarly made pieces," Miller relates of the featured work. "I made it in November 2016. It's 8 inches by 12 inches, and it's made of many tiny pieces of spaghetti-thin strands of glass that are known as 'stringers.'
"The stringers begin as 17-inch-long 1-millimeter-thick strands that are cut and kiln-fired to a base sheet of glass. Then that piece of glass is cut into thin strips and rearranged in a pattern that gives the illusion of depth and movement, and fired onto another sheet of glass. Finally, the piece is fired on a ceramic mold, and it takes the shape of that mold."
She likens the technique, in its illusion of movement, to that used in the creation of bargello quilts (that is, quilts crafted with long, straight needlepoint stitching to produce zigzags, flames and similar designs).
"As I was a quilter before I became a glass artist, such technique speaks to me," says Miller. "I'm always searching for ways to bring my love of fabric into glass, as there are some similarities in the way that colors are 'auditioned' against each other when choosing what glass to use and the way the curves of the final piece feel similar to fabric moving in the breeze.
"The initial design is so different from the way the final piece looks that it's a technique that is impossible to completely plan and impossible to duplicate. Since I create one-of-a-kind art and I've always loved the surprise of opening the kiln, this sort of technique appeals to me.
"Technically, the cutting of the thin strips is a big challenge, and then, since I'm a big believer in using up every bit of glass, there's a challenge in trying to use the leftover cuttings and inevitable broken pieces."
To learn more about our featured artist, visit fabb4fusedglass.com.
St. Louis-area artists who wish to be considered for future installments of this monthly department of Ladue News should email inquiries to bhollerbach@laduenews.com with "Art and Soul" in the subject line.