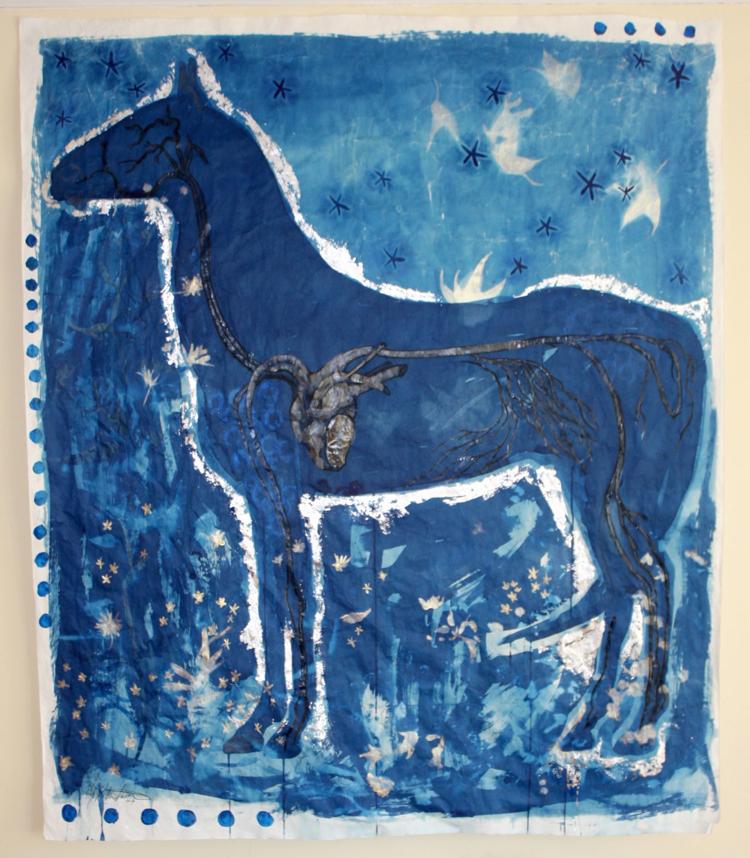 Like a constellation previously undiscovered, Maggie Robertson's Dark Stars explodes gloriously in one's figurative telescopic eyepiece and thereby flirts with an almost mythopoeic impact.
That 47.5- by 56-inch work dates from last year, notes Robertson, a Webster Groves resident, and focuses on a ragged equine silhouette rendered on vellum with acrylic, charcoal, silver leaf and (delightfully) blue eye shadow.
"My work is created with an early photographic process called cyanotype printing, in which light-sensitive chemistry is applied to paper with a brush and allowed to dry," relates Robertson. "Once dry, I place my original designs created with plants and paper cutouts on top, and then it's exposed to sunlight. The paper's then rinsed in water.
"It's at this point in the process that the inherent color begins to emerge. The resultant unique and individual images are a beautiful Prussian blue that has largely unpredictable undulations and variances that are what attract me to this process."
Robertson holds a Bachelor of Fine Arts degree from the School of the Art Institute of Chicago and a master's degree in (incongruously) biomedical visualization from the University of Illinois at Chicago. Most recently, she's been teaching art to third- and fourth-graders at St. Margaret of Scotland School in St. Louis' Shaw neighborhood, as well as throughout the middle school there.
Robertson continues to reflect on the work in question, whose outline, subtly if disquietingly, includes the rudiments of a horse's circulatory system rendered in gray – as if textbooks on astronomy and equestrian veterinary medicine had somehow mingled.
"In the case of Dark Stars, I exposed the work once and then reapplied the photosensitive chemistry in a second layer and repeated the process, thus creating a double exposure," Robertson says. "I also continued to work on the piece with a few other media, such as acrylic and charcoal. The eye shadow's a subtle but visually interesting bit of sparkle that's only visible in the right light."
She characterizes Dark Stars as "a pivotal work in which I began to push the traditional use of cyanotype printing. It's one of my first pieces that I went large with and exposed more than once to see what the results would be. There was a good bit of experimenting going on in this piece. I also started to go back into the piece with other media to further enhance the imagery.
"It's become an important piece in a larger body of work I'm currently immersed in. I hope to conjure ideas of a hidden animal world, full of ceremony, celebration, prophecy and providence. I like to imagine there's a story unfolding here, a fable, that I don't know but have caught a glimpse of."
Beyond such quasi-shamanic considerations, Robertson concludes by noting that she hopes to exhibit Dark Stars and related works although she lacks gallery representation – at least for the moment. 
To learn more about our featured artist, visit magpiedesignstudio.com.
St. Louis-area artists who wish to be considered for future installments of this monthly department of Ladue News should email inquiries to bhollerbach@laduenews.com with "Art and Soul" in the subject line.