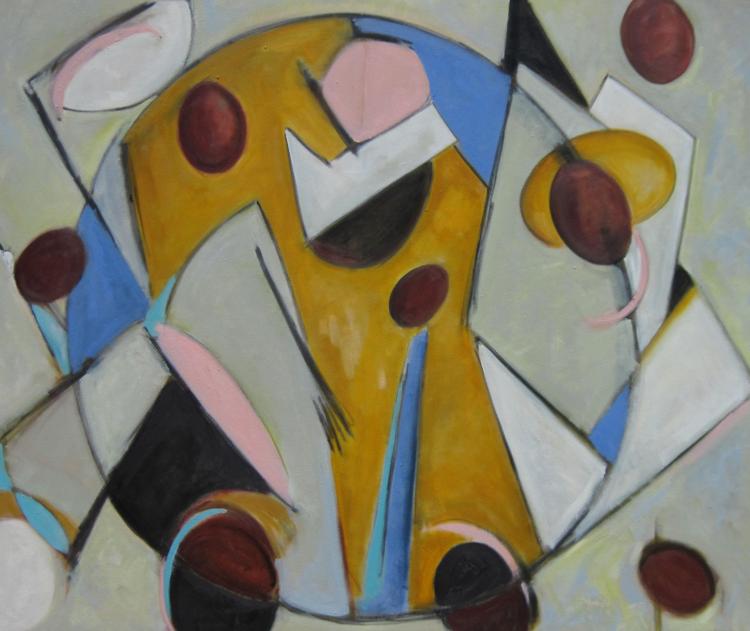 In an era during which far too many people are talking globally but far too few are genuinely thinking that way, St. Louisan Andy Leicht's Earth 2.01 comes as a small comfort.
That oil on canvas focuses on a circle divided into irregular segments of light gray, equally light pink, midrange cyan-blue and, most prominently, old gold, with one matte black straggler. Circling the larger circle and sometimes, because of variations in size, seemingly hovering above it are nine ellipses that recall nothing so much as Kalamatas, oddly enough; in harmony with the painting's title, those pseudo-olives look rather like satellites.
Of that 60- by 50-inch work created last year, Leicht relates, "This painting, Earth 2.01, is the first in a series of 10 large oil paintings that represents my idea of other 'earthlike' planets, as well as a reflection of our own planet."
Unapologetically abstract, Leicht's painting likely will prompt a number of beetled brows among viewers more inclined to embrace representational art. At the same time, though, it should by rights demand a measure of self-inquiry about aesthetic precepts and prejudices, particularly in light of the fact that precious little, at base, separates the abstract nature of Earth 2.01 from the über-representational impact of The Blue Marble, the historic photograph of our own Earth 1.01 shot on December 7, 1972, by the Apollo 17 crew from roughly 18,000 miles above the planetary surface.
Leicht provides few details about himself or his artistic background and career. Appropriately enough in context, however, he does admit to having taken part in the national juried exhibition "What's Your GPS?," which ran for roughly a month last September and October at the St. Louis Artists' Guild & Galleries in Clayton.
At the moment, Leicht's WordPress blog displays two more paintings in the series to which Earth 2.01 belongs, along with other intriguing works, most of them similarly abstract, but some of them distorted yet strangely appealing (even touching) representational pieces, like certain oils collectively labeled "Obituary Portraits."
"Throughout my career as a painter, I have consistently experimented with ideas, creating series of paintings that span over the years and, in some cases, decades," Leicht states on his blog.
"From my dozens of portraits inspired by obituary photographs selected from newspapers to the narrative Lifeboat series, I demonstrate the ability to work through aspects of an idea and then pick up on it again and rework it. The original idea then becomes an ongoing cycle of a painting series.
"Each series is explored, set aside, and explored and worked again. My commitment is to this creative process: trying to achieve a perfection in my art that inherently must be imperfect to reach its gestalt."
With the larger, societal landscape now figuratively dominated by the rectilinear – mostly of minds and monitors in miniature – Leicht's Earth 2.01 and related paintings ultimately and wistfully recall a few lines from "Lobachevsky's Eyes," a poem by the late Roger Zelazny: "The world is curves, I've heard it said,/And straightway in it nothing lies."
At the risk of sounding like a Humpty Dumpty wannabe, truer and truer, day by day.
To learn more about our featured artist, visit andyleicht.wordpress.com.
St. Louis-area artists who wish to be considered for future installments of this monthly department of Ladue News should email inquiries to bhollerbach@laduenews.com with "Art and Soul" in the subject line.