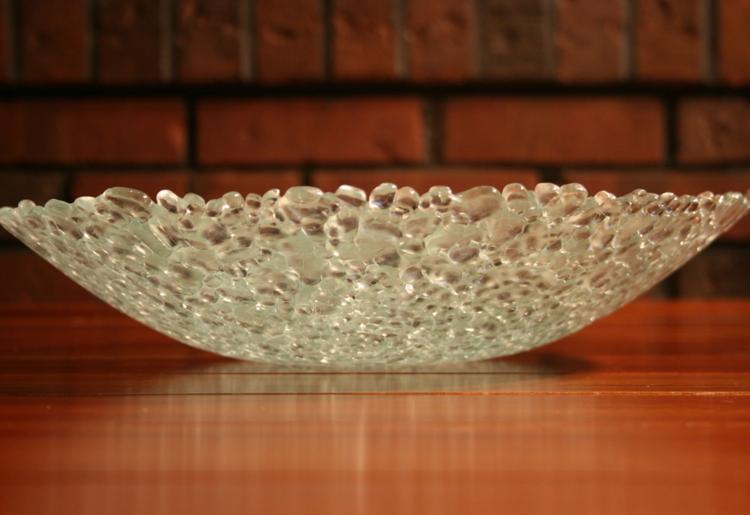 Through no particular apathy or antipathy, eco-friendliness and artistry, for most interlocutors, scarcely pair, perforce – yet such a pairing constitutes one of the manifold felicities of Jennie Hible's work.
The untitled bowl showcased here, which has a diameter of 10½ inches, exemplifies that work in recycled glass. (Hible, who lives in St. Peters, notes in passing that she also works with "art glass, glass that is made specifically to be fired in a kiln" and that St. Charles' Dwell in Design offers certain of her pieces for purchase.)
The mere image of that bowl may well spark an almost visceral response in the reader, a compulsion to cradle between one's palms its gorgeous, pebbled surface, which looks luminescent and (altogether counterintuitively) warm. It emanates palpability.
Funnily, Hible admits her artistic calling commenced not at the kiln but at the easel.
"My grandmother was a painter, but I would always find myself becoming frustrated trying to 'stay within the lines,'" she says. "Ironically enough, I now paint – abstract only – but when I enrolled in a beginning glass class, I found my true passion.
"Typically, I don't set out to produce pieces about a specific subject or matter. I draw much of my inspiration from water, the environment, animals and abstract pieces."
The bowl depicted here suggests a certain fluidity, to be sure. Images of other works by Hible, meanwhile, back her mention of the environment and abstractionism – some of her abstract works recall the delightful vivacity of Spain's Joan Miró – and all appear behind a website front page titled Black Dog Brown Dog Art, which sports a splendidly stylized paw-print logo and photos of two canines (one black, the other … well, guess).
Regarding environmental concerns, it also should come as no surprise that last year she took part in a juried exhibition in the seventh annual Nature and Wildlife Exhibit at Florida's St. Augustine Art Association from July 23 through August 28.
"At one point, I started becoming fascinated with recycled glass," Hible continues regarding her work. "It makes me crazy to see all the old shower and patio doors that end up in the landfill.
"The score of the lifetime was my mom arranging for me to get all the sheets of glass from a school trophy case that was headed to the trash. It's awesome having a hobby that not only eliminates waste but also allows me to create unique and beautiful items for others to enjoy.
"Glass is rewarding, challenging and very frustrating at times – but that's part of the fun."
To learn more about our featured artist, visit blackdogbrowndogart.com.
St. Louis-area artists who wish to be considered for future installments of this monthly department of Ladue News should email inquiries to bhollerbach@laduenews.com with "Art and Soul" in the subject line.