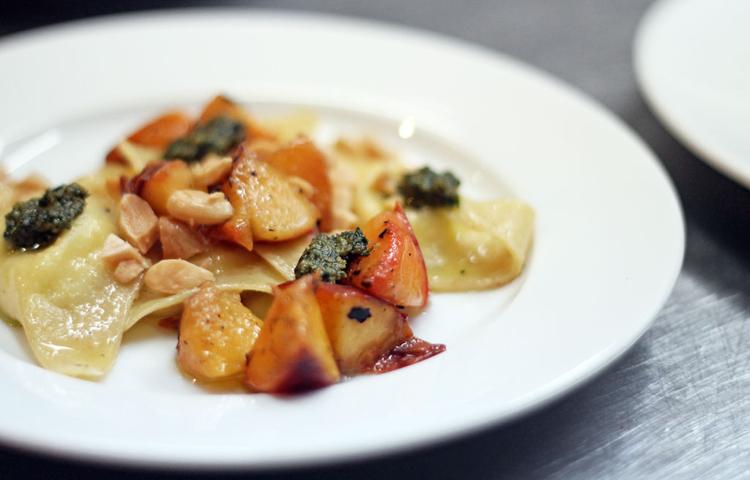 Last month, the St. Louis restaurant scene was rattled by unexpected news: Gerard Craft's fine-dining flagship, Niche, would close in June after nearly 11 years in business and reopen as something completely different.
Rather than undergo a long mourning period, though, Craft announced the Niche team would begin transforming the restaurant's downtown Clayton space into a casual, modern concept set to open in August.
Enter: Sardella.
The restaurant's name references an ancient Italian version of fish sauce, but Craft says Sardella won't be solely Italian – rather, the concept will nod to Italy. Craft, alongside executive chef Nick Blue and pastry chef Sarah Osborn (the pair, who are married, also held those positions at Niche), will help create Sardella's breakfast, lunch and dinner menus.
When Craft first opened Niche in 2005 in the Benton Park neighborhood, he described it as a casual neighborhood bistro with unique foods and flavors. He says guests who frequented the restaurant, though, weren't familiar with the approach.
"They loved the food, but they were confused by the casualness of it," he says. "So we kept pushing ourselves to make it nicer."
Then, in 2012, Craft announced Niche would move to Clayton to be neighbors with his then-new Italian restaurant, Pastaria (which soon will have a second location in Nashville, Tennessee; Craft also opened the fast-casual Porano Pasta downtown earlier this year). After the move to Clayton, Craft says Niche evolved into a more-modern, tasting-focused concept.
"It's an ever-evolving thing," Osborn says of Niche. "What finally was the straw that broke the camel's back is that we had evolved to a place we felt like we couldn't necessarily go further. [Sardella] is now more of a clean slate or a fresh start. It's exciting."
Craft adds he didn't know if Niche could top the stellar year it had in 2015, which included his winning a James Beard Award for Best Chef: Midwest.
"I think that's a good time to stop and start something new," he says.
Blue, who was named Niche executive chef in April following Nate Hereford's departure, describes Sardella's menu as fresh and casual. Blue says his and Craft's inspiration comes from the kinds of food they'd want to eat or cook at home.
"We're trying to keep it as light and fun as possible, really," Blue says.
The chefs are working through menu ideas such as roasted meats, fresh hand-stuffed pastas, panna cottas and clafouti. At Sardella's first pop-up, sneak-peek-style dinner on July 7, the menu's small, shareable plates included crunchy toast with a ricotta spread topped with strawberries and charred snap peas; raw hamachi; chicken liver on toast; chittara pasta with sautéed eggplant and cherry tomatoes; goat-cheese ravioli; oxtail braised with Left Hand Brewing milk stout and served with piadina (a thin, Italian tortillalike bread); and a chocolate-cherry tart for dessert.
Osborn says she's having to reel herself in when it comes to desserts for Sardella, especially because she's no longer limited to sourcing from no more than 300 miles away – a philosophy of regionalism Niche adapted and evolved throughout the past few years.
"I'm very excited about being able to use chocolate again," she says. "I think I've learned and grown a ton over the last two and half, three years almost, by not using white sugar and not using chocolate. I think it's expanded me, but I think now that I can introduce it in, it's going to take things to a different level."
Blue adds that even though Sardella's chefs are no longer limited to 300 miles, the restaurant still will have strong relationships with farmers and try to use as many local products as possible. One ingredient he's excited to expand at Sardella: seafood.
"I know [local] trout is delicious, but there are only so many ways people want to eat that," he says with a laugh.
Both Osborn and Blue stress that the atmosphere of Sardella will differ from that of Niche. A guest can walk in and enjoy a drink – which, at Sardella, will include a large local beer and wine list and an extensive coffee program from St. Louis-based Sump Coffee – at the expanded bar or order small plates and a large plate to share.
"We want you to be able to come on a Monday evening and have a couple drinks and a few small plates, rather than it have to be somebody's birthday or graduation to come in," Blue says.
The soon-to-be Sardella space on Forsyth Boulevard is being remodeled and redesigned by Sasha Malinich of St. Louis-based S. Aleksandr Malinich Design, and local creative agency Atomicdust designed the restaurant's logo. The interior, Craft says, will sport an "'80s flair" that plays off the bright colors of vintage Italian tiles.
"We want it to be more lively and a little more fun," he says.
As for the menu, leading to Sardella's August opening, Craft and company hosted a series of pop-up dinners and even partnered with Seoul Taco's food truck for a lunch pop-up Monday, July 25.
"It's so hard to tell people what you're thinking," Craft says of the menu. "It's easier to show them."
With a new venture from the Niche crew, no doubt St. Louisans will be happy to take a look.
Niche Restaurant Group, nichestlgroup.com