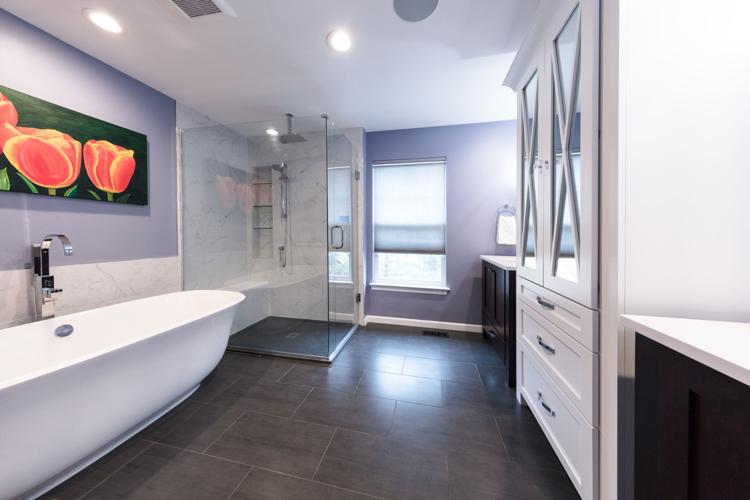 Luxury doesn't have to exist between check-in and check-out time. One local design firm can turn your living spaces into something even the most glamorous of luxury hotels would envy.
"At Mosby Building Arts, we provide an all-inclusive design process – a thorough experience in which we walk clients through [every] stage, from concept through completion," says designer Shannon Cross. "We become like family, working with clients on selections, design and installation together. We work so in-depth on every project that we often end up being friends afterwards."
No surprise, Cross and her team became close with these particular clients while remodeling their master bathroom. That relationship grew beyond this project, when the designer spent time designing the couple's two additional bathrooms for their sons and guests. For this project, though, the homeowners chose to pamper themselves.
"The husband travels quite a bit for business and is overseas a lot, and his wife sometimes travels with him, as well," shares Cross. "They both wanted that high-end hotel ambiance in the master bathroom."
The biggest challenge was evident from the beginning. To expand the shower space, Cross would have to flip the current location of the tub and shower, including plumbing. She pulled in experts from Mosby, first ensuring the plan's feasibility with the project manager and a plumber. Soon, the shower head and drains were rerouted to the opposite side of the second-floor master bathroom, allowing for a complete transformation.
"We achieved [the clients' vision] with sleek, clean-lined finishes, accented by, what I like to call, 'bling,'" describes Cross. "To create that [five-star hotel] feel, we included glass knobs, polished chrome on the hardware and lighting, and some nicer amenities. [The couple now has] a digital shower control, speakers in the ceiling that can be remotely worked from their phones, heated flooring, a high-tech bidet toilet and electric inside the medicine cabinets, which is a highly functional element to have."
Fine living is sure to be had in such a glamorous space, a sentiment to which the clients wholeheartedly agree.
"They absolutely love the finished spaces," Cross admits with pride. "The Mrs. told me her husband said it was even nicer than any hotel he has ever stayed in, which is a huge compliment to me and my team. They light up every day they use it, which is always our ultimate goal. When working with a client, [we aim] to create a space that they will fall in love with and enjoy for years to come."
Mosby Building Arts, 645 Leffingwell Ave., St. Louis, 314-909-1800, mosbybuildingarts.com