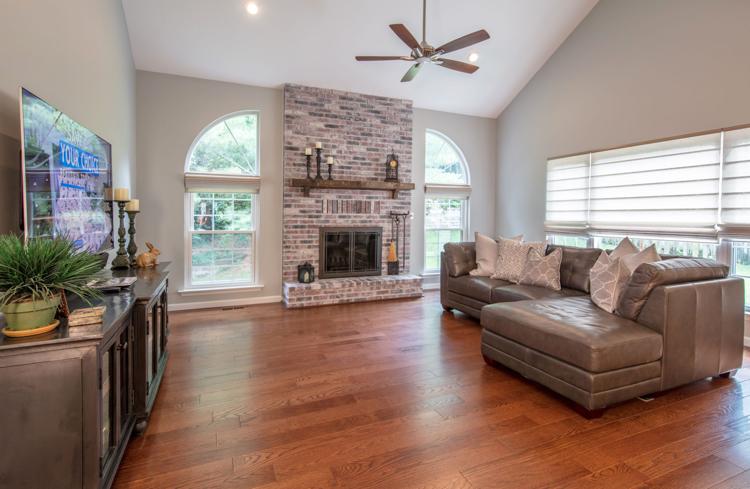 Redoing the first floor of your home can be a daunting task. Working with designers, contractors and construction crews to make your vision for your home come to life has the potential to be stressful and challenging. However, a company like Mosby Building Arts that encompasses all aspects of the remodel can take away much of the stress that surrounds gutting a section of your home.
Jake Spurgeon, a Mosby designer, works with clients every day to make their goals for their home come to fruition – even if the project is as big as an entire first-floor makeover.
"When we have a client with that large of a scope, we talk about all the spaces," Spurgeon says. "We give them the option to do it in phases, but often it's easier for the client to have it all done at once. We always offer options of how to upgrade and change their space."
Spurgeon says when clients move into a new house, they usually want to upgrade some finishes to make it their own. Their home consultants and designers will visit the house and go over all aspects of the house the clients would like changed and see how Mosby can make it happen for them. This conversation includes the initial design, finishes the clients want changed and any walls the clients might want removed or moved.
For one such client, the Mosby Design team of Jake Spurgeon and Becky Trent was able to do a complete first-floor makeover that included the kitchen, the dining room and an office space. The Mosby team reworked the sitting room into an office space for the client to work from home, something Spurgeon says they've been doing for a lot of clients.
"We're making use of every inch of flooring," he says.
The renovation included putting in classic, wide-plank wood flooring and whitewashing the brick fireplace. Mosby also added a 150-year-old hand-hewn beam for the fireplace mantel and did a complete kitchen overhaul.
"It was a fun project," Spurgeon recalls. "They had lived there for close to 20 years and wanted an update, but didn't know where to start."
What sets Mosby apart for big projects is its course of action.
"We have processes set up for every type of project," Spurgeon says. "We let them know what we'll be able to do throughout the design phase, and the client is able to see how everything will look with full-color 3D software."
With Mosby, the entire remodeling process is done under one company, under one roof.
"We can show the client from start to finish how their dream can be achieved," Spurgeon says.
Mosby Building Arts, 645 Leffingwell Ave., Kirkwood, 314-909-1800, mosbybuildingarts.com