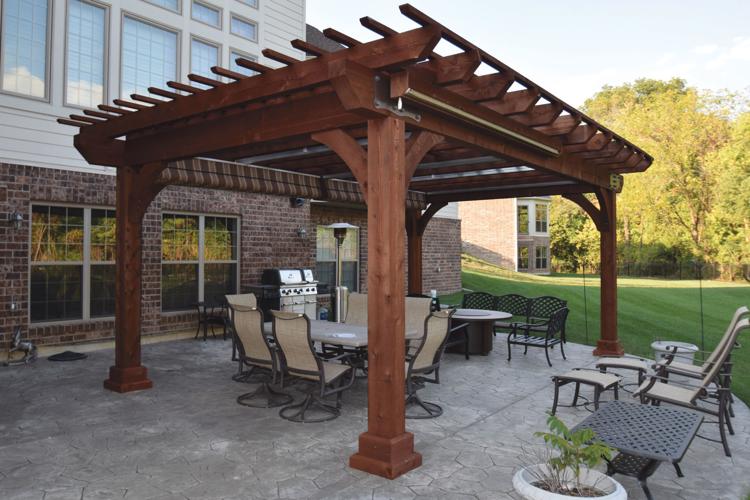 A St. Louis family-owned business, California Custom Decks aims to bring joy to families across the area with customizable deck designs that elevate how you relax. Introducing cool concepts for outdoor entertaining spaces, the company sources top materials that are built to last a lifetime.
"The backyard space is the new family room for many," says consultant Mike Brueggenjohann. "It's important that thoughtful planning is considered. The types of activities, number of people, preferred style, types of furnishings — all contribute to unique deck, patio and outdoor room areas."
Throughout season changes and temperamental weather patterns, California Custom Decks has found synthetics and metals to be a popular choice among clients, due to their resiliency in extreme conditions.
"Many people favor long-lasting, low-maintenance materials," Brueggenjohann notes. "Most spaces that we create can be kept looking new with simple soap-and-water cleaning, similar to how you would care for your car."
The team behind your dream design, keen to personalize every space to each family, absorbs ideas and takes inspiration for outdoor living spaces from everywhere. Upcoming projects include incorporating fresh concepts with simpler designs, from a unique rail system and new decking color to interesting shade structures and a bevy of lighting.
"A design professional with experience and a willingness to listen to your objectives is a great starting point," Brueggenjohann states. "It's important to dive into your project, ready with opinions about what pleases you. Plan ahead and utilize our resources [at California Custom Decks], so you can make the perfect space."
California Custom Decks, 9227 Manchester Road, Rock Hill, 314-968-3325, caldecks.com