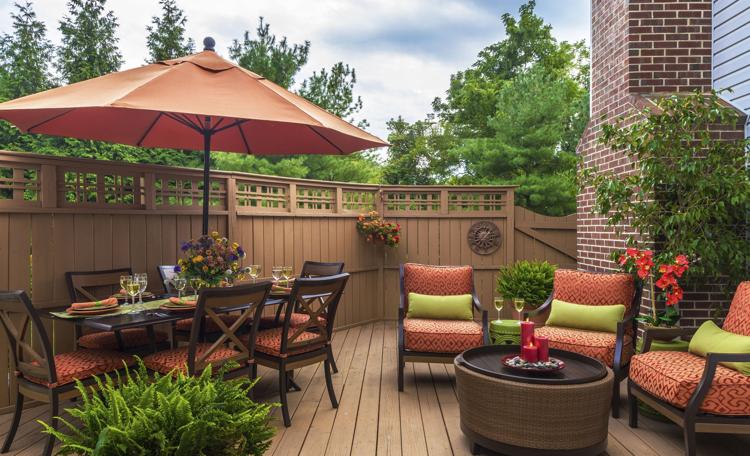 It's the height of summer in St. Louis, and families and friends are gathering on backyard decks, dining al fresco on patios and relaxing poolside. But along with the outdoor fun come sweltering temperatures amid sun-drenched exterior living spaces. To beat the heat, area designers are offering the top ways to select and style the best backyard shade items, from pergolas and outdoor curtains to sail umbrellas and canopies.
Staying cool during the dog days of the season is best achieved through sail umbrellas, pergolas with outdoor curtains and roller shades, according to Heidi Sowatsky, owner and decorator of the local franchise of Decorating Den in St. Charles and the regional director for Decorating Den in the St. Louis area. Fashioned after a ship's sail, a sail umbrella is a piece of mesh – typically blocking about 90 percent of ultraviolet rays – tensioned between multiple posts or structures. Pergolas are outdoor structures consisting of columns that support a roofing grid of rafters and, along with umbrellas and other permanent structures, are best for blocking the midday sun, Sowatsky explains. A roller shade is a piece of fabric mounted on a roller for convenient sun control and shifting shade, ideal for working against late-morning or later-afternoon beams that penetrate a covered patio at an angle.
When it comes to selecting attractive and durable exterior shade items, Sowatsky says Sunbrella is a well-regarded brand of custom-made outdoor fabric, preferred for its weather- and fade-resistant qualities. And consumers have every color of the rainbow to choose from when selecting outdoor curtains, umbrellas and canopies. "You don't have to stick to earth tones anymore, but most people will gravitate toward the colors of nature – green, blue and brown," Sowatsky says. Conversely, let the natural pigments of the outdoors speak for themselves, and use one pop of color, such as a vivid hue of red, orange or yellow, in various locations throughout the space – from umbrellas to outdoor curtains, rugs, and furniture cushions and pillows, Sowatsky explains. "That color will serve as an accent to the naturally provided colors of the outdoors."
Dana King, owner of NEXT Project Studio, recommends avoiding color trends. "I favor what fits the space and the client," she says. "If a trendy color doesn't enhance the surroundings – doesn't bring out the character of the stone fireplace or the cedar wood, for example – don't feel compelled to use it."
To add color, architecture and a lot of style, homeowners should try a sail shade – another name for a sail umbrella – with UV-blocking and fire-resistance from a quality manufacturer such as Coolaroo, King says. "One or two sail shades can provide a canopy for an intimate space, or they can be layered for more drama and to cover more space." Curtains added to an existing pergola create an elegant sun shield for patios and decks, as well as soften the structure's hard edges, King adds.
St. Louis designer Mary Tramelli says it's a great idea to treat your outdoor space as an extension of the indoors, carrying the home's interior colors and designs outside.
"I think of the backyard as another room of the house," Tramelli says. "Whatever colors are going on inside, such as earth tones like dark rust and olive green – use those outside." These pigments can be displayed on shade-providing products, from umbrellas to canopies, as well as through shade trees like northern catalpas or shady garden plants like orange 'Dragon Wing' begonias. This allows your outdoor living area to complement your home's interior, as well as blend into the natural environment, Tramelli explains.
To position backyard shade items in style, homeowners can opt to cover their entire outdoor dining and lounge areas through canopies between trees or sail shades between posts or awnings attached to the edge of the home.
"For a truly artful installation, consult a designer who can purchase the shades and work with their installer to create the most impactful placement," King says, noting that a custom design is the ultimate way to achieve the most attractive, tailored look.
With the right combination of complementary shade accents, local designers say cooling down your backyard living space can be a breeze.
SWAT Design Team for Decorating Den, 636-244-1623, decdens.com/hwhitfieldsowatsky
NEXT Project Studio, St. Louis, 314-914-2840, nextprojectstudio.com
Mary Tramelli, St. Louis, 314-602-8218